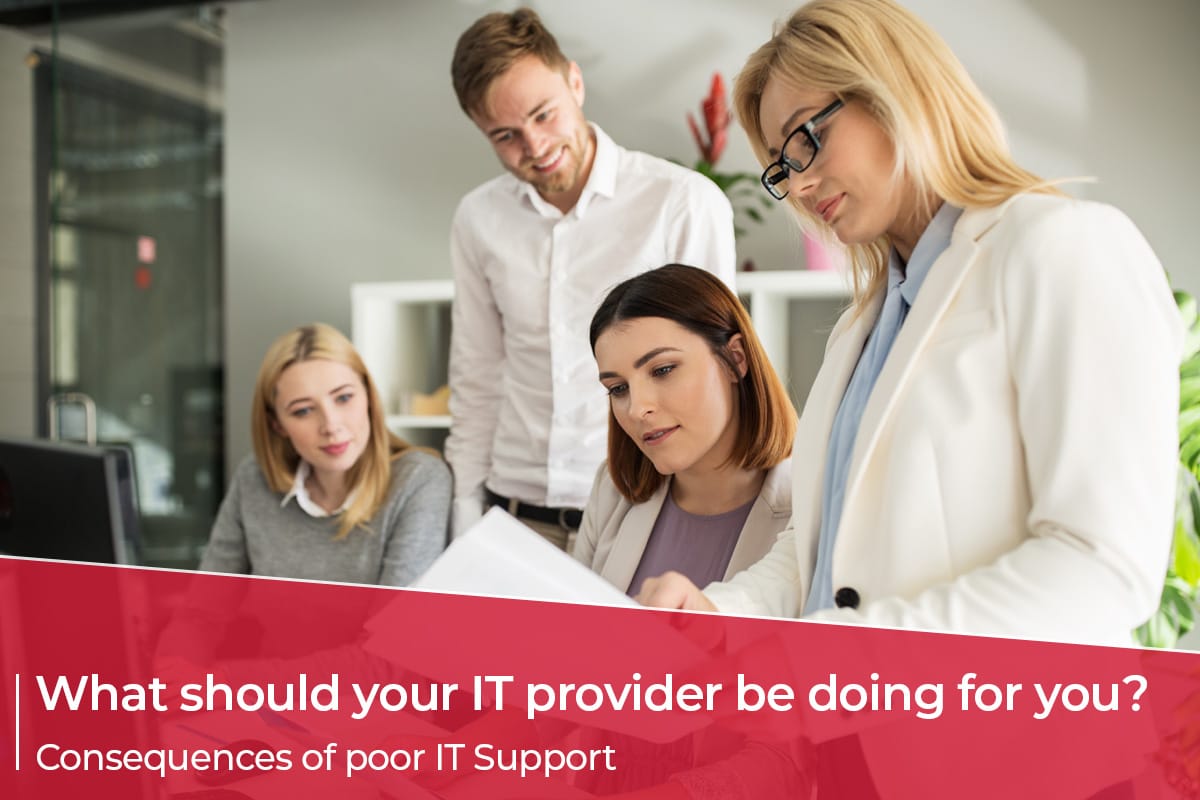 15 Apr

What should your IT provider be doing for you? – Consequences of poor IT Support

Practically every business around the globe relies on IT in one way or another for vital business functions. This reliance just becomes more and more apparent, as more time passes and the more automated our workday becomes.

Businesses rely heavily upon their IT infrastructure to get their work done to the best of their ability. Therefore, it is essential that it is managed, maintained, and allowed to evolve freely with the times. The need to do this has been further accentuated since the sudden conversion to remote working brought about by Covid-19.

Your IT provider may be supporting your business to a good standard already, but, whether that is the case or not, you must ensure that you regularly review your provider – holding them to account for any issues should feature as one of your regular supplier review activities.
The consequences of poor IT support
Downtime – the mere mention of the word strikes fear into business owners up and down the land. Poor performance, downtime, or misaligned configurations can be far more damaging than people think. As the adage goes 'time is money' and no saying could be truer, because time wasting and interruptions, whether it be by one team member or all of them, will be silently costing you money due to their drop in productivity and poor efficiency. It can even effect staff morale, as staff that suffer as a result of frequent IT delays or outages may become frustrated and restless, and this factor will eventually be reflected in their attitude towards work.
Customers can become aware of poor IT management too. There are many scenarios that could unfold involving IT that could hinder the customer experience. An interruption to your operations will delay production or delivery of products and/or services to customers – being both costly financially and in terms of reputation.
If IT issues are frequently affecting the service you are providing, customers could choose to take their business elsewhere. Customer experience is the most important ingredient in the recipe that makes up a good business – it is integral that you give them what they have come to expect, and better.
Why do people switch from their existing provider?
A lot of the time the reason a switch is on the horizon isn't necessarily due to a bad relationship – sometimes it's because there is no relationship at all. Sometimes it's due to laziness, but the most common reason is that business owners think 'it's too much trouble to swap' – they are gravely mistaken.
These excuses are not good enough reasons to stay with unsatisfactory support and service from your IT provider. We will now explore some of the reasons business owners may leave their current provider.
Lack of communication
As we previously said, a lack of communication is often the most common reason why business owners decide to consider switching their IT support. Stereotypically, most tech-minded people are inherently not the best at communication on a personal level. Most of them will do an outstanding job of finding fixes and implementing new technologies within your business but will often fail in communicating with the users and businesses that they are supporting. This leads to a lack of two-way understanding; you – the client – fail to have your expectations met and will fail to comprehend the actions being taken (or not) by the IT provider, and the provider will be failing you because they have not adequately explained the situation or the remedy. One of the top complaints from customers about IT providers is that lack of a personal relationship and clarity in communication – from the day-to-day handling of service tickets through to the whole management and roadmap of the business' IT.
Lack of Forethought
A lot of IT providers have the awful habit of supporting the past and fail miserably at meeting your demands for the future. Of course, looking after the business' hardware, software, and IT services is of the utmost importance, but if the provider is solely focused on supporting the past this can have serious effects on the future development of the business.
Lack of industry knowledge
Most IT providers focus only on technology and not how it can be best applied in industry-specific settings. It is a minimum requirement, as the client, to expect your IT partner to tailor technology services and applications to the workflow in your specific industry. Having a lack of knowledge or appreciation for their clients' type of business, workflow requirements, and compliance obligations can make for an uncomplimentary relationship between the business and their technology and this will also apply between your business and your IT provider.
Insurance policy style support
Some IT providers deliver as little support as possible as part of their ethos; they react to an issue once it has already become apparent as opposed to acting proactively by seeking out potential problems and opportunities with proactive maintenance and management. Knowing this, they are very possibly falling considerably short of the 'taking ownership of your entire IT landscape' that they claim to do.
Now that you know what makes a poor IT provider, in the next – and last – blog in the series we will go into detail about what you should be expecting from an IT provider.
The IT support specialists
Your IT is the beating heart of your business and it needs looking after! Our team of experts can provide you with Cloud services that have the power to revolutionize the way you work. We at Downtown Computer Services offer a wide range of managed IT service plans catered to fit your needs, whatever your budget, whilst utilizing cutting edge technology to improve the efficiency of your organization. We will help you to get the most from your digital landscape both through advanced levels of security and outstanding support. Contact us now and see what we can do for you.