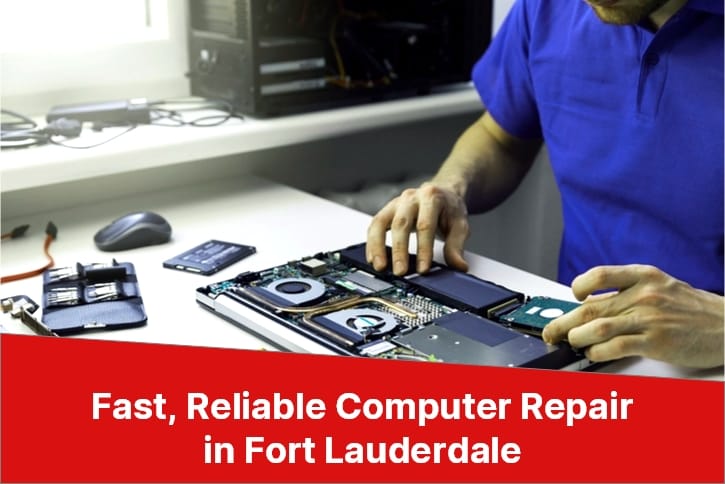 14 Mar

Troubleshooting Your PC? Find the Right Computer Repair Company in Fort Lauderdale.

Are you looking for a reputable computer repair business in Fort Lauderdale? With this guide, you'll be able to find reliable technicians and the right services to tackle any PC issues that arise. We'll cover everything from identifying red flags, how to pick the best repair service, and tips on getting the most out of your money.
Do Your Research and Read Reviews.
Before selecting a computer repair company, it's important to do your homework. Read online customer reviews to get an idea of the customer service offered by the particular company. This will also give you an insight into how experienced the technicians and repair staff are in terms of computer hardware and software issues. Ask your family, friends, or colleagues for recommendations on reputable computer repair companies in your area as well.
When looking for a good computer repair company, make sure to check if their technicians are certified and licensed. Moreover, look into the amount of experience they have in repairing computers and what kind of software or hardware services they offer. Ask specific questions about the types of repairs they do and get quotes from different companies before making your decision. Knowing what types of problems can go wrong with a computer beforehand and having a warranty in case something does go wrong will help you sleep better at night knowing you're covered if something does happen.
Needs troubleshooting your computer?
Get a Free Consultation with Downtown Computer Services! Our Computer Repair technicians are ready to carry out free computer diagnostics in our computer repair shop and perform computer repairs. Request a call back and call (954) 524 9002 right now.
Understand the Different Computer Repair Services Offered by Companies.
Different computer repair companies offer various services and capabilities. Some specialize in technical repairs, while others provide both hardware and software assistance. When looking for a repair company, make sure you understand what type of assistance they specialize in. Most companies provide services such as laptop and desktop repair, data recovery, virus removal and protection, wireless networking setup and upgrades, hardware configuration, operating system installation or reinstallation and more.
When deciding which company to go with, also consider their customer service and response time. Do they provide a quick turnaround for problems? You should also look into what type of warranty is included in their services. A reputable computer repair company, as Downtown Computer Services, will be able to explain the repair process and services before you get started, so make sure you understand everything upfront. Additionally, many companies provide free estimates so that you can evaluate different options and choose the best plan for your needs.
Is your computer screen broken?
Our Computer Repair Specialist is ready to perform free computer diagnostics and computer screen replacement. Request a call back or call (954) 524 9002 right now.
Check to See What Hardware & Software Solutions are Available.
It is important to ensure the company you select has the hardware and software solutions necessary for your particular needs. Be sure to ask about any additional services you might need, such as data backup, virus removal or repair of a specific type of device. Additionally, make sure they are familiar with the make and model of your computer, since this can drastically affect the success of the repair.
Furthermore, it is essential to ensure that the company offers fair and competitive prices for their services. Many businesses have fixed pricing on certain repair scenarios, so be sure to obtain quotes from several companies. Additionally, don't be afraid to ask about warranty terms and customer satisfaction guarantees. You must feel confident in the computer repair service you choose as it pertains to both customer service and technical aptitude.
Do you need to diagnose your computer and determine the problem?
Our Computer technician is ready to perform free computer diagnostics and repair a malfunction. Request a call back or call (954) 524 9002 right now.
Consider whether the Cost is Worth It or Not.
Before you decide, it's important to think about how much money and time you are willing to invest in repairing your computer. If you are dealing with complex issues like hardware failure or complicated software issues, the cost of the repair might be too high for the value of your device. However, if it is a straightforward solution such as virus removal or installation of software, the cost may be worth it if it will save you time and energy eventually.
Another factor to consider when weighing the cost of computer repair is if a local technician or a national chain store is better suited for your particular needs. Local experts may be pricier, but they also have personal experience with common problems that plague computers in Fort Lauderdale. National chain stores may offer lower rates, but you cannot count on them to provide detailed information about unique or complicated difficulties that require specialty knowledge. But regardless of what option you choose, taking the time to research your computer repair needs will allow you to make an informed decision that fits within your budget.
Do you want to know the cost of repairing your device?
Get a Free Consultation with Downtown Computer Services! Our Computer Repair technicians are ready to carry out free computer diagnostics in our computer repair shop and perform computer repairs. Request a call back and call (954) 524 9002 right now.
Ask Around for Recommendations From Friends, Family, or Colleagues.
Asking friends, family, or colleagues in the community for computer repair company recommendations can be a great way to find the right technician. If you know someone who has used the same service before, they can provide an honest appraisal of their experience and help you decide if it is the right choice for your PC repair needs.
There are lots of computer repair companies in Fort Lauderdale, and it can be overwhelming to choose the correct one. Ask people who you trust if they have recommendations, and take the time to research each option carefully. Talk to the technicians about their experience with similar issues, read customer reviews online, and compare prices to make sure you're getting quality service for a good value. With a bit of homework, you'll be able to find just what you require for your PC repair needs in Fort Lauderdale.
Do you require a software update for work?
Contact us! We are ready to quickly install productive software for work. Our Office 365 Support specialists are ready to carry out an assessment free of charge for you. Request a call from our specialist today!
---
Check out other interesting news:
Computers encounter various problems affecting performance, functionality, or usability. Some of these problems can be easily fixed by the user, while others require the help

---

The screen is the most important and delicate part of your MacBook. It is prone to various problems, such as cracks, scratches, dead pixels, flickering, distortion, etc. In this article

---

Let's get straight to the point. A secure browser is one that has protective features like encryption and tracking prevention to help keep your online activity private and safe. These features are essential

---