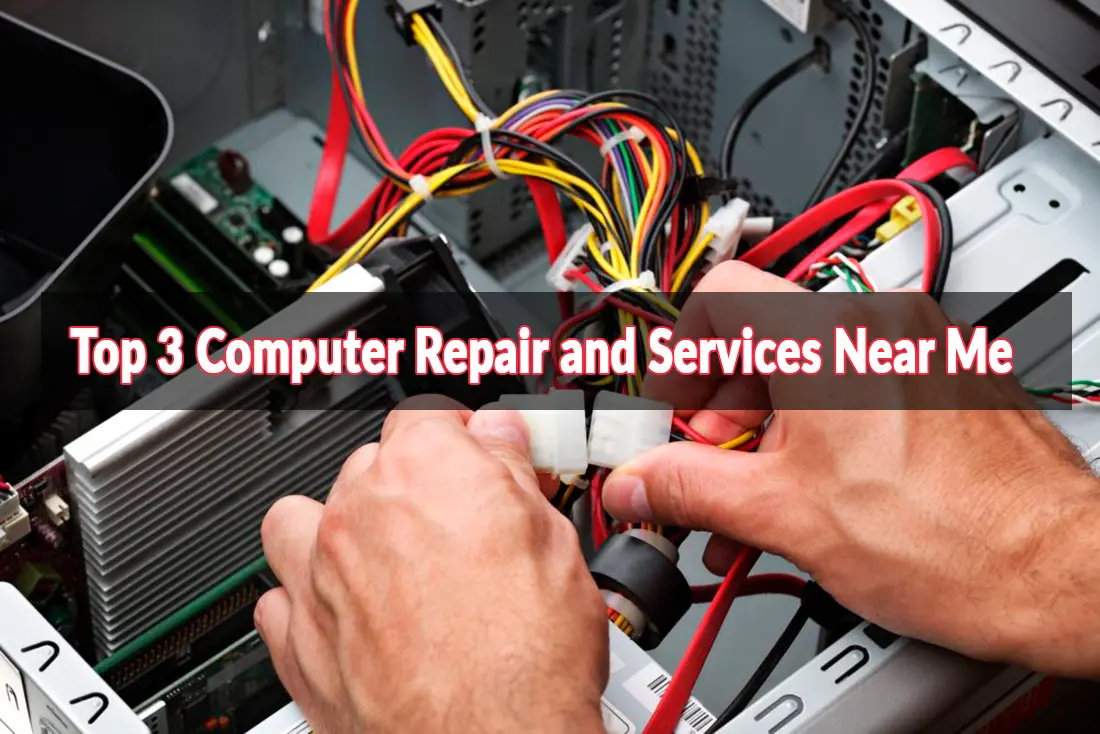 19 Oct

Top 3 Computer Repair and Services Near Me: Tips for Choosing the Best One
The Importance of Computer Repair and Service Near You
Today they break down, tomorrow — become infected with viruses, and on weekends — suffer physical damage. Computers are the backbone of modern day-to-day life; when they fail, it's a disaster. That's why you should always know how to reach your computer repair 911. And preferably somewhere in your local area.
However, finding a computer repair store that is trustworthy, affordable, and easy to reach is a difficult mission. Plus, good customer service matters. They should keep you updated on how the repair is going. In this article, we'll guide you on how to find the right computer repair services in your area.
How to Choose a Computer Repair Service
Are you already googling computer repair and services near me? Hang on a second; don't take your computer to the first workshop you come across. To ensure that your equipment and data don't suffer even more and that you don't have a nervous breakdown when dealing with computer technicians, consider the following factors while choosing a computer repair store.
Expertise
Experienced computer specialists know how to solve both software and hardware issues. They can repair both desktops and laptops. They understand both Macs and Windows computers of any brand — be it Dell, Lenovo, or HP. And if they can set up Linux on top of everything else, then such masters are worth their weight in gold! To ensure you make the right choice, check their credentials and certifications, such as licenses, accreditations, awards, memberships, etc.
Reputation
A reliable computer repair store will have positive ratings, reviews, and customer feedback. Use Google, Bing, Yelp, Thumbtack, and social media to search for and compare service providers. Don't forget about word-of-mouthrecommendations — ask friends, neighbors, and co-workers about their experiences with a particular computer service and where they get their computers repaired.
Price
Look for a store that charges by the job, not by the hour, and has no hidden or extra fees. Be sure to ask about the cost of labor, parts, and other associated expenses. Compare the prices and warranties of different service providers before making a decision.
Location
Consider the location of the computer repair service. Just type computer repair and services near me in Google or Bing. Or enter the exact location, for example, computer repair in Fort Lauderdale. If you don't have time to drop off and pick up your computer, choose a store that offers on-site services or pickup and delivery. However, some issues can be solved remotely — thanks to live sessions with screen sharing and mouse/keyboard control.
Customer Service
The computer service staff must be ready to answer your questions and explain the repair process. Before making a final decision, find out if they will keep you updated on the status of your repair and let you know if there are any unexpected costs.
Turnaround Time
Contact several stores and find out how quickly they will repair your computer. It may turn out that some will need a couple of days, while others will do everything by the evening.
Warranty
And of course, ask them about the warranty. Year? Six months? Month? A week? The longer the warranty period, the less chance you will have to spend money on your computer repair 911 again.
Main Computer Repair and Maintenance Services
Computer repair services are the kinds of work that tech specialists perform to fix or improve computers. It's helpful to know them if you want to find a common language with tech specialists. Also, this knowledge will help you compare different computer repair service providers and avoid being scammed by dishonest or incompetent people.
Computer Repairing Center
This is where you can solve hardware and software problems with your computer. They repair hard drives, motherboards, and power supplies. Also, they can deal with things on your computer that make it slow or unsafe, like viruses, junk files, lost data, and old software. Most computer repair centers have trained, experienced tech specialists who understand any computer, whether desktops or laptops, Macs or Windows-powered PCs.
Local Computer Repair
Here, they can help you in a convenient and personal way. But in general, local computer repair stores do the same things that larger centers do — troubleshooting and fixing hardware problems, installing and updating software, removing viruses and malware, setting up and maintaining networks, etc. The benefit of local computer repair stores is that they are easy to reach and fast to help. Many of them can come to your place and fix your computer there. This is called on-site assistance.
Computer Monitor Repair
If a store provides computer monitor repair, they fix problems such as cracks, scratches, dead pixels, flickering, etc. Also, they handle monitor calibration, ensuring accurate color representation for tasks like graphic design, photo and video editing.
Laptop Repair
When your laptop goes wrong, you need tech specialists in portable computers. They know what to do with faulty keyboards, broken screens, problematic batteries, and damaged charging ports. Because laptops are compact, these repairs often require specialized tools and expertise. On the software side, they assist with operating system installations, data recovery, virus removal, and performance optimization.
MacBook Repair
MacBooks are special computers, just like other Apple devices. And that's why they require special treatment. On the one hand, stores offering MacBook repair services handle common hardware issues like logic board replacement, screen replacement, battery replacement, keyboard and touchpad repair. On the other hand, they also tackle software problems specific to macOS — system crashes, slow performance, and data recovery. Only specialists trained in Apple's proprietary systems and components can be eligible for MacBook repair. In this case, simply typing computer repair and services near me into a search engine isn't enough.
Laptop Screen Repair
Laptop screen repair service is all about fixing the display of your portable computer. Whether there's a crack in the glass, dead pixels, issues with brightness control, or all sorts of lines on a laptop screen — laptop screen repair specialists can restore your screen to its former glory.
Motherboard Replacement
Your computer won't boot or recognize devices — these are signs that your motherboard probably needs to be replaced. This process involves removing the faulty motherboard and installing a new one, which is a complex task due to the numerous connections.
HDD to SSD Upgrade
Hard Disk Drives (HDD) can be slow and prone to failure over time. Upgrading to a Solid State Drive (SSD) can dramatically improve your computer's speed and reliability and reduce noise and heat. This service involves safely removing the old HDD, installing the SSD, and transferring any data you wish to keep.
Video Card Replacement
You should replace your GPU if there are such problems as low graphics quality, low frame rate, overheating, etc. Also, a video card replacement to a more powerful one can improve your gaming and multimedia experience and avoid glitches or crashes.
Power Supply Replacement
PSUs are vital for providing stable and clean power to all computer components. If your PSU is faulty, it can lead to system instability or even damage to other parts. Therefore, treat PSU with special attention. If it doesn't give enough power, makes noise, or causes short circuits — replace it in your local computer repair store.
Tips for Maintaining Your Computer
Like everything in the world, computers must be serviced so you don't have to visit repair stores too often. Fortunately, it's not complicated at all. Here is how to keep your computer in good working order.
Keep Your Software Updated
Always update your operating system and applications. Updates contain bug fixes, security patches, and performance improvements that let your computer run smoothly and safely. We recommend enabling automatic updates; otherwise, there is a high risk of forgetting about them.
Use Antivirus Software
Antivirus protects your computer from viruses, malware, spyware, ransomware, and other threats that can harm your system or steal your data. Always keep the antivirus updated so that it would be familiar with the recent threats.
Avoid Risky Behavior Online
You're at risk if you visit untrusted websites, download unknown files, click on suspicious links or pop-ups, open spam emails or attachments, or share sensitive information online. These actions can expose your computer to viruses, malware, phishing, identity theft, or hacking. Be careful when browsing the web or using email or social media. Use strong passwords, enable two-factor authentication, and use a VPN for public Wi-Fi networks.
Clean Your Hardware
Dust and debris accumulate on your computer components even if you are very tidy. They can cause overheating, noise, or damage. Regularly dust off your keyboard, mouse, monitor, and ports with a soft cloth or blow with compressed air. Open the case of your desktop or laptop and gently clean the fans, vents, and other parts with a vacuum or a brush. Check the cables and connections — if they are loose or frayed. Contact your local computer repair store if you are afraid to open your computer — let specialists do it.
Optimize Your Storage
If there are too many files or programs on your computer, they can slow it down. Delete any unnecessary or duplicate files and uninstall programs you don't use. Regularly defragment your hard drive to improve its efficiency and speed. We recommend upgrading your hard drive to a solid-state drive (SSD) to make your computer faster.
Why Downtown Computer Services Has All that You Need
Since 1995, Downtown Computer Services has been helping businesses in Fort Lauderdale and across Florida with their computer problems. We began by fixing computers when they broke. Now, we offer various tech services for small and medium-sized businesses — from Mac and PC repair to managing cloud solutions and solving cyber-security issues.
We can:
Put in a new operating system
Set up programs
Find and get rid of harmful software
Fix power supply issues
Check and change hard drives
Replace motherboards
Figure out what's wrong with custom PCs
If you have a problem with your computer, you don't have to come to us. Our specialists are always ready to provide on-site services. We also offer remote support with an advanced solution that allows live sessions with screen sharing and mouse/keyboard control.
Are you looking for computer repair in Fort Lauderdale or any other city in Florida? Look no further — Downtown Computer Services is here to help. You can reach us by phone at 954.524.9002 or online using the form.
Conclusion
Now you know everything to choose a trustworthy, affordable, and easy-to-reach computer repair services provider. You know that there are big computer repairing centers and local stores and how they differ. Local ones work faster. You also know what questions you can contact them about — from monitor repair to motherboard replacement. And, of course, you are armed with the knowledge of maintaining the computer yourself — use it to keep your computer alive and kicking.
If one day something goes wrong — just contact Downtown Computers, and we'll come right away or establish a direct connection to your computer. Whatever suits you.
---
Check out other relevant news