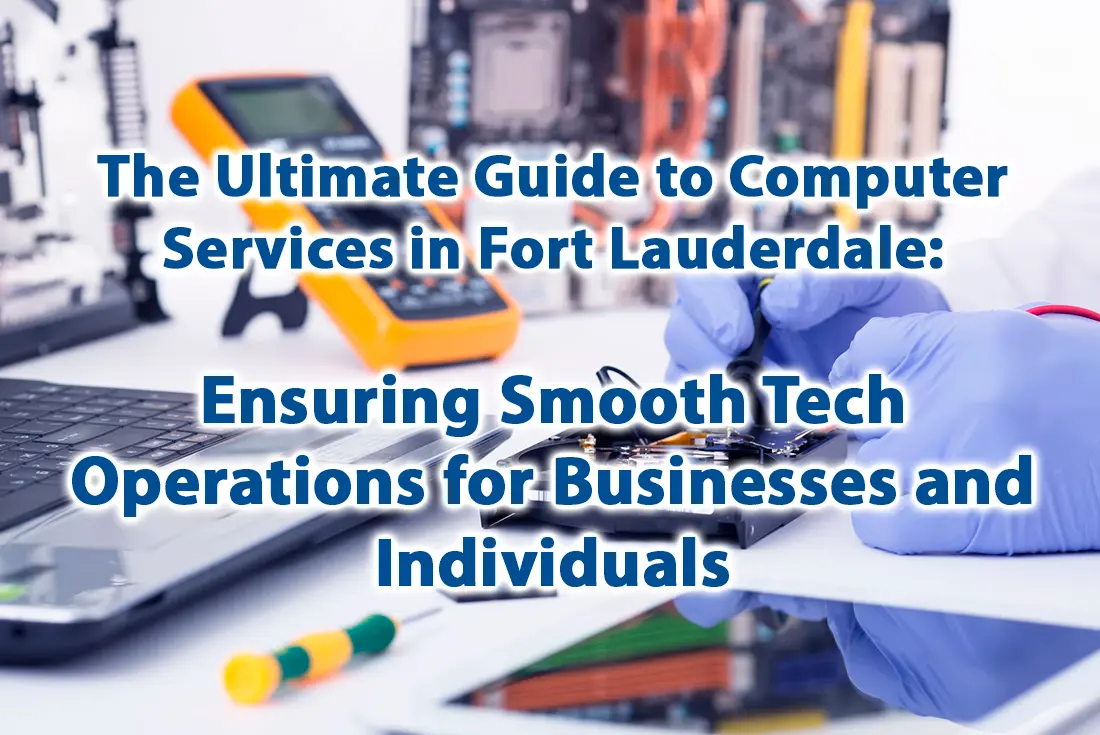 08 Nov

The Ultimate Guide to Computer Services in Fort Lauderdale: Ensuring Smooth Tech Operations for Businesses and Individuals

Is life possible in the modern world without a computer? Well, to some extent. They enable us to communicate, create, learn, work, and entertain ourselves. Computers require regular maintenance, repair, and support as complex machines to function correctly and securely.

Computers are not immune to malfunctions, errors, or threats. They can break down, slow down, crash, or get infected by viruses or malware. They can also lose data due to accidental deletion, corruption, or theft. And don't forget about network issues that affect connectivity and speed. Such situations cause frustration, inconvenience, loss of productivity, and even financial damage. That's where computer support services come in.

Computer support services provide assistance and solutions for various computer-related issues. Whether it's hardware or software, virus or data, network or cabling, computer services can help you resolve your problems and optimize your performance.

Computer support services are vital in Fort Lauderdale, a city with a vibrant economy, a diverse population, and a sunny climate. Fort Lauderdale is home to many small and large businesses across various sectors — tourism, finance, technology, education, and healthcare. All these businesses rely on computers. Fort Lauderdale is also a popular destination for tourists who use computers for leisure and professional purposes. That's why you need reliable and professional computer services in Fort Lauderdale to ensure smooth tech operations for your business or personal needs. In this article, we'll explore the types of computer services available in Fort Lauderdale and how they can help you. We'll also introduce you to the best computer services provider in Fort Lauderdale — Downtown Computer Services — and why you should choose them for your computer needs.

Caught in a tech emergency? Computer crashed? Don't let a technical glitch put your business at risk! When panic sets in, remember there's a lifeline ready to help: Downtown Computer Services. We're here to swiftly resolve your computer issues and get your operations back on track. Don't hesitate—every minute counts. Call us now: (954) 524 9002.
Types of Computer Services
Many types of computer services can cater to different computer issues and needs.
Hardware Support
Hardware support refers to the physical components of your computer, such as the motherboard, CPU, RAM, hard drive, keyboard, mouse, monitor, printer, etc. They can help you install, configure, repair, replace, or upgrade your hardware devices. If your hard drive fails or runs out of space, hardware support services can replace it with a new one or add more storage capacity.
Software Support
Software support encompasses services related to the programs and applications that run on your computer — the operating system (Windows or macOS), office suite (Microsoft Office or Google Workspace), antivirus (Norton or McAfee), browser (Chrome or Firefox), etc. Software support services help you install, configure, update, repair, or remove your software programs. When your operating system crashes or gets corrupted by a virus, software support services can reinstall it or restore it from a backup.
Virus Removal and Protection
This service safeguards your computer from harmful software or malware that can damage your system or compromise your data. Viruses are programs that infect your computer without your consent and perform unwanted actions such as deleting files, stealing information, displaying ads, or encrypting data for ransom. Virus removal and protection services scan, remove, and prevent viruses from infecting your computer. Your computer got infected by ransomware that locks your files and demands payment for decryption? Virus removal and protection services can remove ransomware and recover your files.
Data Recovery and Backup Solutions
These services focus on the salvage and safeguarding your data (documents, photos, videos, music, emails, etc.) from potential loss or damage. Data recovery and backup solutions recover your data from various scenarios — accidental deletion, formatting, corruption, or theft. They can also help you back up data to external devices or cloud services for future use. If you accidentally delete an important document from your recycle bin, contact the experts in data recovery and backup solutions to recover it.
Network Setup and Troubleshooting
These services relate to your computer's connectivity and performance in relation to other devices and the internet. Network setup and troubleshooting services deal with setting up, configuring, repairing, or optimizing your network devices and connections. Let's say, you want to share files or printers between multiple computers in your home or office. Network setup and troubleshooting services can set up a local area network (LAN) for you. If you experience slow internet speed or frequent disconnection, network setup and troubleshooting services can diagnose and fix the problem.
The Best Computer Services Provider in Fort Lauderdale — Downtown Computer Services
If you're looking for the best computer services in Fort Lauderdale, look no further than Downtown Computer Services. We've been serving the Fort Lauderdale area since 1995. We offer computer services and solutions for both businesses and individuals:
Computer Repair Services: Our team of certified technicians stands ready to tackle any computer issue, be it hardware or software-related, virus issues or data matters, for both desktops and laptops. We pride ourselves on quick, accurate diagnostics and repairs. We also provide free estimates and diagnostics, convenient onsite services, and pickup/delivery options.
Computer Support for Our Customers: For seamless and secure computer operations, we offer continuous support and maintenance to our customers. Our assistance ranges from remote and phone support to email responses for any computer-related inquiries. Businesses seeking regular, all-encompassing computer support can benefit from our service contracts and managed IT services.
Networking Services: Whether your network is wired or wireless, for home or office use, local or global, we're here to assist with setup and troubleshooting. Our services include installing and configuring routers, switches, firewalls, and access points. We specialize in optimizing your network performance and security for a seamless digital experience.
Structured Cabling Services: We specialize in designing and installing structured cabling systems for your business or home. These systems, a network of cables and hardware, seamlessly connect to your devices, offering an organized, dependable infrastructure for data transmission. Our expertise covers all cabling projects, whether fiber optic or coaxial, voice or data.
Why Choose Downtown Computer Services?
What's the best computer support in Fort Lauderdale? It's us, Downtown Computer Services. And here's why:
Quality: We provide top-tier computer services and solutions that meet and exceed your expectations. Leveraging industry-leading tools, techniques, and practices, we ensure the highest quality of work, underscored by our warranty on parts and labor.
Experience: With over a quarter-century of experience in computer services, we've catered to a diverse clientele—from individuals to businesses, small-scale to large, across various sectors. Armed with extensive knowledge, skills, and expertise, we can tackle any computer-related challenge or project.
Customer Service: Our commitment is to deliver exceptional customer service, ensuring you feel valued and satisfied. We're friendly, courteous, and professional, always ready to listen to your needs, understand your goals, and provide tailored solutions. With clear, honest, and prompt communication, we're accessible 24/7.
Affordability: We believe in providing top-quality services at prices that won't break your bank. We offer free estimates, discounts, coupons, and financing options to give you the best value for your money.
Conclusion
Businesses and individuals require dependable computer services for seamless tech operations in Fort Lauderdale. These services span a range of needs, from hardware and software support, virus removal, and data recovery to network setup and troubleshooting. The key lies in choosing a proficient computer service provider that brings quality, experience, customer service, and affordability. Look no further than Downtown Computer Services, your premier choice for computer services in Fort Lauderdale. Reach out to us today at (954) 524 9002.
---
Check out other relevant news