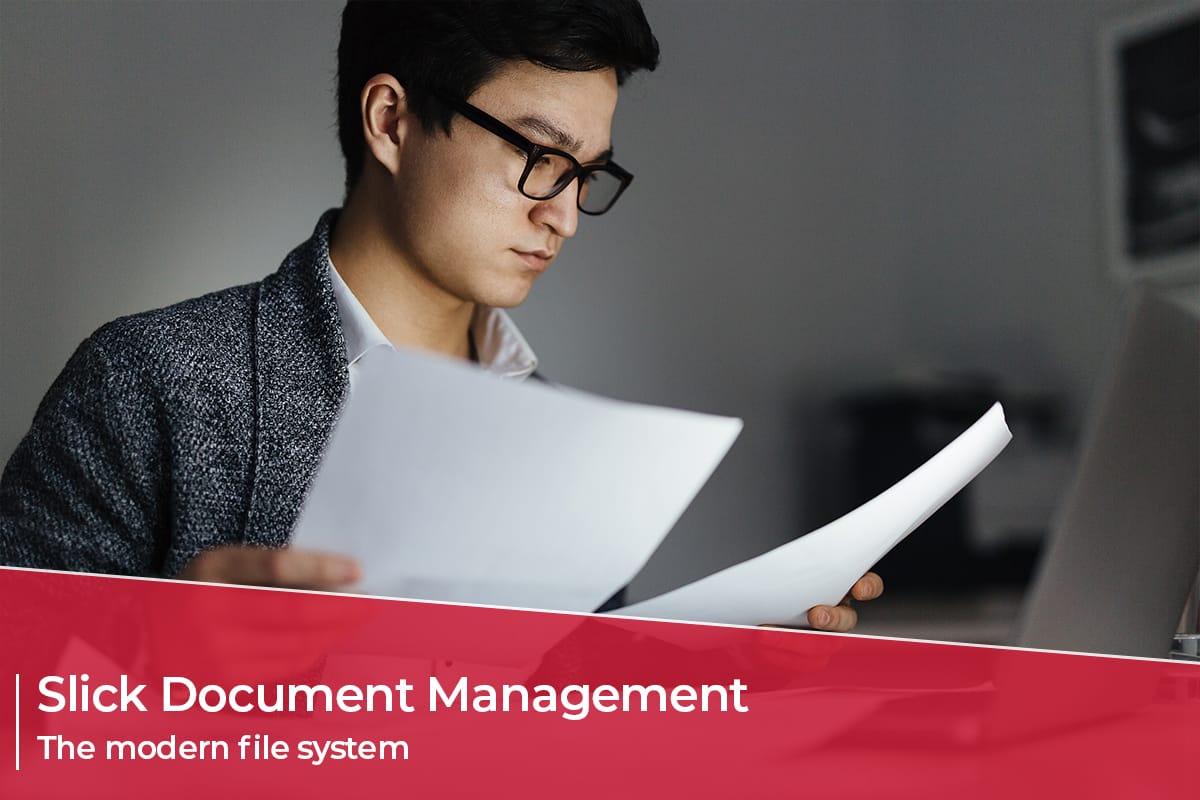 06 Dec

Slick Document Management | The modern file system

In our previous article we established that the technological advancements that we have witnessed in merely a few decades have been huge. These advancements have revolutionized the way we work, store our documents and changed the way we go about our daily activities, both in the workplace and otherwise. We established that it is essential that you and your business move with the times and adopt modern technological methods as soon as possible, because this is the only way to fully utilize the ever-evolving technological landscape and doing so will improve the way your team work and, in turn, boost productivity and efficiency.

We also briefly explored SharePoint as the modern alterative to your traditional file servers. Let's take a more in-depth look now.
SharePoint
SharePoint is a customisable Cloud-based content collaboration and management platform that allows your team to work together, remotely, and smarter than they ever have before.
What are the benefits of SharePoint?
SharePoint allows for unrivalled levels of collaboration. Its 'Co-authoring' feature in Microsoft Teams allows for multiple users to edit a document at the same time, irradicating the need for hundreds of versions of the same document to work their way around the company.
Existing app integration
Microsoft SharePoint seamlessly integrates with the rest of your business applications. It also works effectively with your entire Microsoft Office Suite of tools – including Excel, Word, PowerPoint, and Teams – and a variety of other back-office systems – making it easy to use and thereby saving you time and money.
Your data integrity and safety remains constantly at the peak of SharePoint's abilities. You are in full control of your security and can configure different settings for controlling shareability and storage to ensure you remain both safe and regulatory compliant to whatever regulations your organization needs to follow.
The streamlining of business processes
SharePoint allows you to collect and organize data from your entire business all in one place. Information from suppliers, communication with customers, interactions with partners, and a variety of other metrics are stored in SharePoint's form-driven solutions. Your employees, by having access to business intelligence portals in SharePoint, will make better decisions based on revised consumer statistics and even be able to predict accurate future fluctuations in supply and demand.
Task management
SharePoint makes it possible to guarantee top quality work every time. Once a user is finished with a piece of work they can 'send for review' to another user. The other user – once having reviewed the work – can then sign off the document as complete, which will notify other relevant users of the change. This means that your team aren't constantly emailing or messaging each other – they can simply rely on SharePoint to carry out automated processes and ensure quality of service.
Your IT is the beating heart of your business and it needs looking after! Our team of experts can provide you with Cloud services that have the power to revolutionize the way you work. We at Downtown Computer Services offer a wide range of managed IT service plans which are individually catered to fit your needs, whatever your budget, whilst utilizing cutting edge technology to improve the efficiency of your organization. We will help you to get the most from your digital landscape, both through advanced levels of security and outstanding support. Contact us now and see what we can do for you.