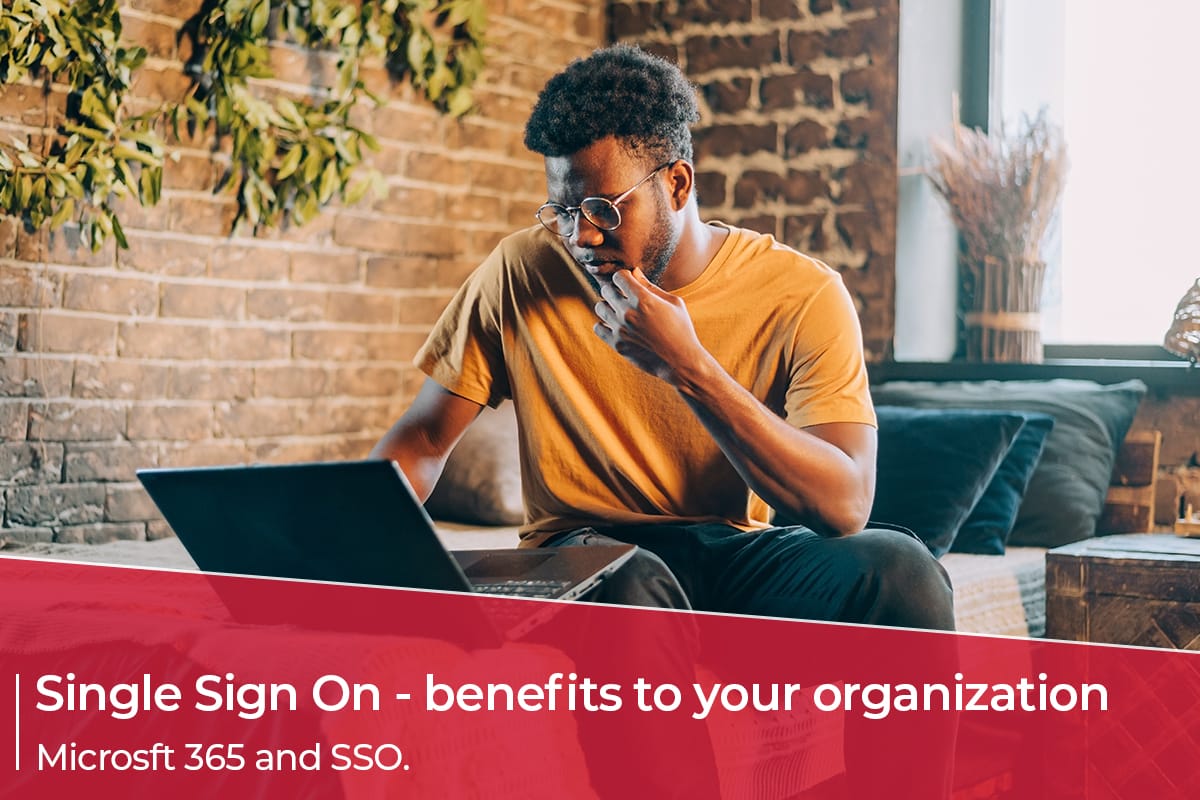 13 Sep

Single Sign On and its benefits to your organization – 365 and SSO

Previously, we explored Single Sign On (SSO), what it is, how it can benefit your business, and how – if connected, managed, and maintained correctly – it has the power to not only boost the productivity of your team, but also the overall security of your entire organization.

In this article we will explore how, by combining the power of SSO and the long-trusted capabilities of Microsoft and its suite of tools, you can reap even more benefits from your SSO software.
Microsoft 365 and its relationship with SSO
When SSO is synchronized with their Microsoft 365 account, your users are able to sign into their account using the same Microsoft credentials. This feature has the power to make everyone's workday easier – until someone forgets their password. We've all been there, brainstorming in an attempt to mix the name of your cat with the road you used live down, or whatever other combination you can think of – all to no avail. Or, on the other hand, it can be just as annoying having to input them when you do know them multiple times a day for multiple apps.
SSO allows users to log in using Active Directory Credentials
SSO will help users to log into their account using their Active Directory credentials, allowing them to not have to repeatedly enter their credentials – just signing into their machines will be enough to allow access across the board.
Microsoft Azure and SSO
The Azure Active Directory allows your users to access all of their apps with SSO from anywhere on the globe with an internet connection, on any device! All of this allows for a much better experience for your entire team no matter their location, in turn, increasing productivity. Microsoft Azure and SSO will allow your team to be connected to some of the world's most popular apps including Dropbox and Zoom! But what do SSO and Microsoft Azure make possible in the workplace?
Access pre-integrated apps
With the help of Microsoft Azure and SSO you can make for a much more productive working environment by allowing you to connect your Software-as-a-service (SaaS) apps using their gallery.
Scale IT efficiencies
Microsoft Azure integration with SSO will allow you to offer 'self-service password reset tools', which in turn allows you to guarantee your users drastically reduced support times and save your organization on overall costs. You can then concentrate your limited resources on higher yield activities.
Automatic sign in is also possible! With Microsoft Azure Active Directory Seamless SSO it is possible to automatically sign users in when they are on a corporate device that is also connected to a corporate network – once enabled your users won't have to input their passwords – or even their usernames. This can also be beneficial for those users that aren't the best at remembering passwords or usernames, saving time on contacting the IT team.
Embracing the modern technological age is essential, if embraced correctly it has the power to revolutionize your organization to levels that were not possible before. SSO is one of the many tools out there that is worth implementing, doing so will allow your team to work more productively whilst simultaneously being more secure too.
Your Cloud service provider
Our team of experts enable companies to enjoy the advanced opportunities offered by technology. Our Cloud solutions include offsite data backup, data sync services, Hosted Exchange, and Office 365. Those same experts will work alongside you to be sure we not only implement the best technological solutions to improve the way you work, but also ensure it is as straightforward as possible. You and your team will be educated throughout the entire process and be confident that your systems are secure at all times.
Contact us now to find out how we can help you.