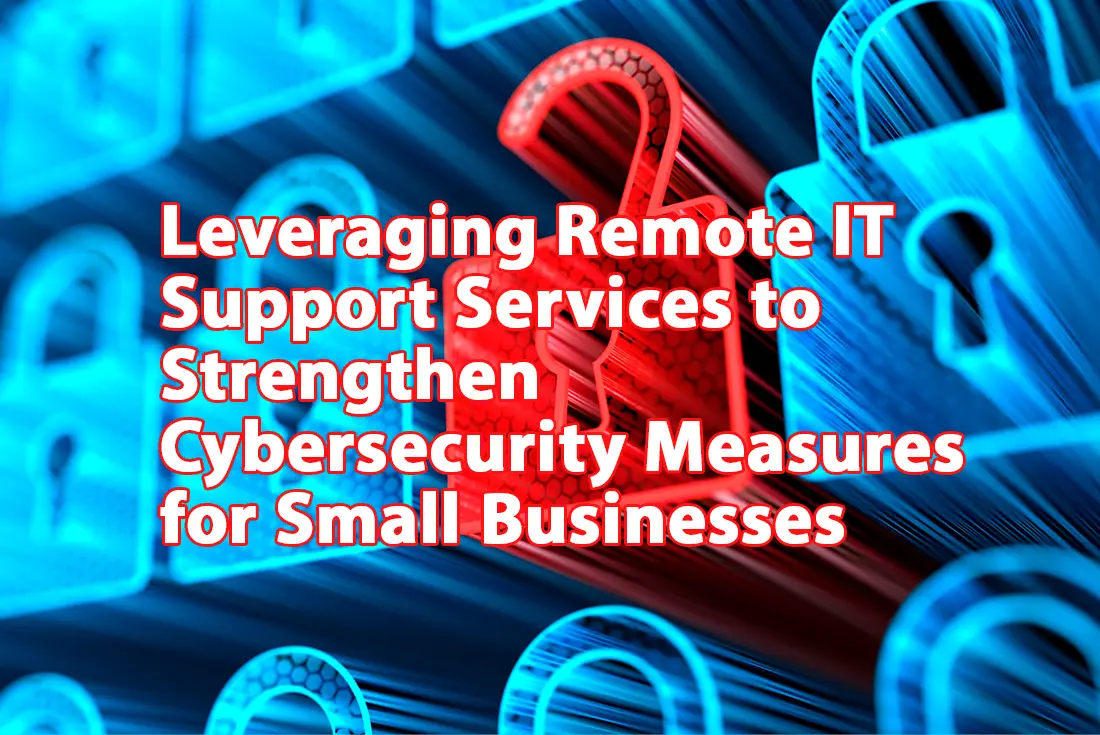 24 Oct

Leveraging Remote IT Support Services to Strengthen Cybersecurity Measures for Small Businesses

Cybersecurity is paramount for a successful business. It safeguards computer systems, networks, and data from unauthorized intrusion or attacks. Effective cybersecurity measures can minimize the risk of data breaches, cyberattacks, or other incidents detrimental to your business.

Nevertheless, cybersecurity is a complex undertaking, particularly for small businesses lacking the necessary resources, expertise, or time. Consequently, many turn to remote IT support for small businesses to enhance their cybersecurity measures.

Remote IT support services offer IT assistance to businesses from a distance, eliminating the need for physical presence. These services cater to various IT needs, including network management, security, cloud computing, software development, web design, and computer repair.

This article delves into how remote IT support services can bolster cybersecurity measures for small businesses. We will also examine the advantages of delegating IT support to remote providers.
Understanding the Need for Strong Cybersecurity Measures
Cyberthreats don't discriminate between large corporations and small businesses. The State of Cybersecurity Report by Ponemon Institute shows that cyberattacks are a significant concern for small to medium-sized businesses globally. It states that 45% of these businesses deem their security measures ineffective at mitigating attacks. A staggering 66% experienced a cyberattack in 2022, and 69% report that these attacks are becoming more targeted, emphasizing the importance of robust cybersecurity measures.
Small businesses often face several common cyber threats and vulnerabilities:
Phishing: This involves fraudulent emails or messages that appear legitimate, tricking recipients into clicking on malicious links or attachments, or providing sensitive information.
Ransomware: This malware type encrypts or locks victim data or devices, demanding a ransom for their release, causing significant losses.
Denial-of-Service: This attack overwhelms the victim's network or server with excessive traffic or requests, disrupting normal functioning and availability of online services.
Insider Threats: These are attacks from employees or authorized users who misuse their access to compromise system or network security. These can be intentional or unintentional, resulting from negligence, malice, or coercion.
The impacts of these cyber threats on small businesses can be severe, affecting productivity, efficiency, quality, reputation, security, and profitability, potentially leading to legal, regulatory, or contractual liabilities.
Thus, small businesses must implement strong cybersecurity measures to prevent or reduce the risk of data breaches, cyberattacks, or other harmful cyber incidents.
Don't let tech problems hold you back. Embrace the power of remote IT support for small business and keep your IT infrastructure stable, resolve incidents quickly, and handle change requests efficiently, no matter where you are.
Contact us at (954) 524 9002
Exploring Remote IT Support Services for Small Businesses
Small businesses can bolster their cybersecurity measures by utilizing remote IT support services. These services offer IT assistance over the Internet, eliminating the need for physical presence. They support various devices and software, including computers, laptops, smartphones, tablets, and networks.
The services offered by most remote IT support providers include:
Technical Support: Troubleshooting and resolving issues with hardware, software, and networks.
Helpdesk Support: Assistance with basic IT tasks like setting up new devices, installing software, and configuring networks.
System Administration: Tasks include managing user accounts, installing updates, and monitoring system performance.
Security Support: Tasks like configuring firewalls, installing antivirus software, and responding to security incidents.
Remote IT support services provide several benefits for small businesses aiming to enhance their cybersecurity, including:
Access to Expertise: Small businesses access specialized knowledge and technology that may otherwise be unaffordable. Remote IT support for small business provide qualified technicians who can handle any cybersecurity issue professionally. They also offer access to the latest tools and equipment, improving cybersecurity performance.
Cost-effectiveness: These services can save small businesses money on hiring and training in-house IT staff, maintaining IT equipment, and paying for IT licenses. It also helps avoid unexpected costs from cybersecurity breakdowns or emergencies.
Short Response Time: Remote IT support services guarantee quick response to cybersecurity issues. They provide a dedicated team of technicians available 24/7 and a local provider who can quickly reach them in an emergency.
Friendly Customer Support: Small businesses receive attentive service catering to their needs and preferences. Regular updates and reports on their cybersecurity status and performance are also provided.
Enhancing Cybersecurity with Remote IT Support Services
Enhanced cybersecurity is a prime benefit of remote IT support for small businesses. Companies can ensure continuous monitoring and protection against potential cyber threats by employing these services.
Remote IT support services bolster cybersecurity in numerous ways:
Regular Maintenance and Updates: These services detect and rectify any issues affecting systems and networks' cybersecurity performance or functionality. They also optimize cybersecurity by implementing new features or enhancements.
Security Software and Hardware Installation: They assist in installing and configuring security software and hardware, such as antivirus, anti-malware, firewalls, encryption tools, VPNs, or biometric devices. This helps protect systems and networks from unauthorized access or attacks.
Backup and Recovery Solutions: Remote IT support for business aid in data backup and recovery in the event of data loss or corruption. They create and restore copies of data on cloud storage or external drives and recover data from damaged or infected devices.
Employee Training and Education: Remote IT services provide training on correctly and safely using systems and networks. They educate employees on security protocols like creating strong passwords, avoiding phishing emails, and reporting suspicious activities. They also share cybersecurity best practices like updating software, backing up data, and logging out accounts.
In conclusion, remote IT support services offer comprehensive and effective cybersecurity solutions, ensuring small businesses are well protected against cyber threats.
Conclusion
Cybersecurity is crucial for small businesses in the digital age. Yet, it can be challenging due to resource or expertise limitations. Many businesses are turning to remote IT support services for help. These services provide distance-based assistance for various IT needs, including network management and security, offering benefits such as specialized expertise, cost-effectiveness, and rapid response times. They enhance cybersecurity through regular maintenance, security software installation, backup solutions, and employee training. Remote IT support services offer robust cybersecurity solutions, protecting small businesses from cyber threats.
If you are looking for a reliable and reputable remote IT support provider who can offer you efficient and effective cybersecurity services, contact Downtown Computer Services today.
Don't let your cybersecurity issues ruin your business.
Contact us at (954) 524 9002
---
Check out other relevant news