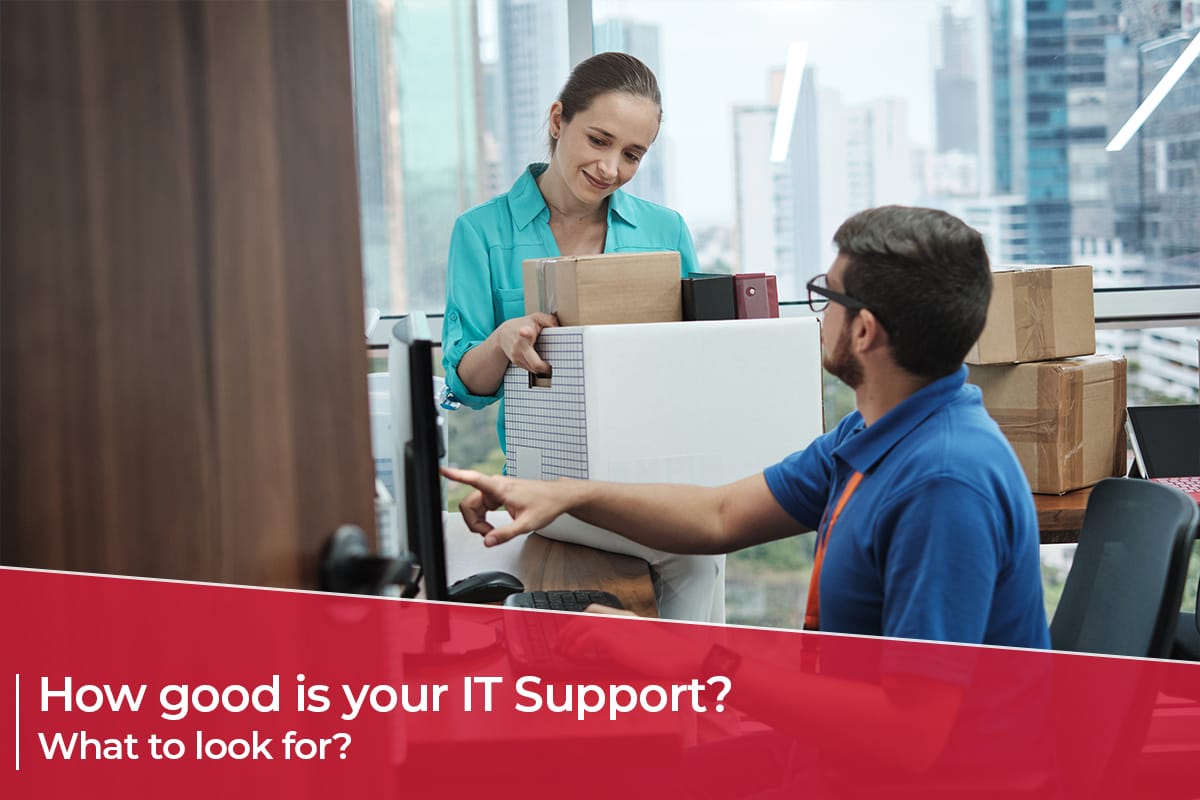 04 Nov

How good is your IT Support? – Part One

The modern world has been transformed over the last two decades with the arrival of revolutionary technology. Technology is continually evolving, and this has led to our lives becoming easier and far more connected than ever before, both in our home and work lives. Businesses around the world have been slowly but surely weaving technology into the fabric of their organizations – and this is true no matter their size. Whether it is a large conglomerate or your local convenience store, owners are now wise to the fact that technology – in the right places – can improve workflow by untold amounts.

Technology is one of the most important elements of a successful business today, meaning the importance of implementing the right tools and – most importantly – the support around those tools is of a good standard. With the rapid influx in business tech, IT support companies are sprouting up all over the place, and most make some wild claims (statements such as 'we give the best support', 'we approach your IT landscape proactively', 'we cater our service to you', are just a few). What even is 'the best' IT support? And how is that measured?

The answer to that question is obviously relative to what you are looking for from your IT and in turn your provider, but we will move on to what to look out for from your IT support provider later.

IT support comes with one common misconception – it isn't support at all. Yes, back when it was a foreign concept to most to integrate IT into the workplace support did actually mean support, but that was only because technology wasn't evolved enough and wasn't able to be catered to an individual's needs. You couldn't plan for the future! It worked broadly and you had to make yourself fit within its parameters, not the other way round – luckily, that is no longer the case. Modern IT support should be more, it should be personalized to your organization and should adapt and evolve to your needs. The IT specialists that manage your account should do a lot more than just support you, they should be an active member of your team working hard to help you meet your business goals with the help of effective technology.
What will a good IT support specialist do for you?
Show interest with proactivity
Take note of this one, because it's one of the most important of all. Most IT companies don't even attempt to be proactive in their approach and show no interest in the history or – more importantly – the future of your business. Most behave more like an insurance provider and only show interest or provide any support when a problem arises. They should be genuinely interested in your organization, its past, and its future – by doing this they will be able to prepare for the worst-case scenario in a way that best suits your particular management style and entire organization. Every organization on the planet is different, with no two the same, so why should you be painted with the same brush as someone else?
Proactivity allows for better revised anticipation; in the eventuality of a business debilitating problem, you and your team will be prepared – or at the very least have a backup plan to allow you to keep working. Anticipation stops small problems from becoming big ones – this is why strategically aligned IT, along with support that mirrors it, is so important.
Allow for unlimited calls
Forget about any IT support provider that limits how many calls you can make to them – they simply aren't worth your time. The concept alone is ludicrous – how are you meant to know how often you are going to need assistance, or when? If you could predict when you are going to need help, then you wouldn't be asking for it.
Effective communication
For all their technical prowess, tech minded individuals predominantly aren't the best communicators. As we said, this by no means lessens their capabilities in a technical sense – but poor communication can seriously affect the quality of your service. With less than adequate levels or quality of communication your IT landscape – and relationship with your provider – could suffer as a consequence. They must communicate with you about future plans or worries they have about the overall technological landscape of your business – if they don't then you will have no forewarning of potential issues. On the other hand, if the poor communication is a factor from the beginning of your relationship then they won't know what your goals or concerns are, so how can they help you to achieve or fix them?
Providers that ensure effective communication will make a point to be in contact with you frequently. Don't get us wrong, you won't be getting a phone call every day asking how you are and if everything is okay, but, as an example, a monthly call would suffice – they must clearly make a conscious effort to get to know you, your team, and your business. The best support providers will not just get to know your business on a technical basis but also in other ways, taking time to learn what makes you and your team tick, what challenges you face daily, and what they can do to help?
Service Level Agreement (SLA)
An SLA is important, as it defines the parameters you agree on with them detailing what they guarantee to provide you from the service. All providers offer something different; you must talk through these with potential providers to be sure you choose the right one – don't just sign the first contract you are offered.
The next article will be a buyer's guide to IT support, and will detail what you need to look out for on prospective providers' websites. It will, hopefully, equip you with what you need to know to make a revised decision on what is best for you, your team, and your business overall.
The IT support specialists
Your IT is the beating heart of your business, and it needs looking after! Our team of experts can provide you with Cloud services that have the power to revolutionize the way you work. We at Downtown Computer Services offer a wide range of managed IT service plans which are individually catered to fit your needs, whatever your budget, whilst utilizing cutting edge technology to improve the efficiency of your organization. We will help you to get the most from your digital landscape, both through advanced levels of security and outstanding support. Contact us now and see what we can do for you.