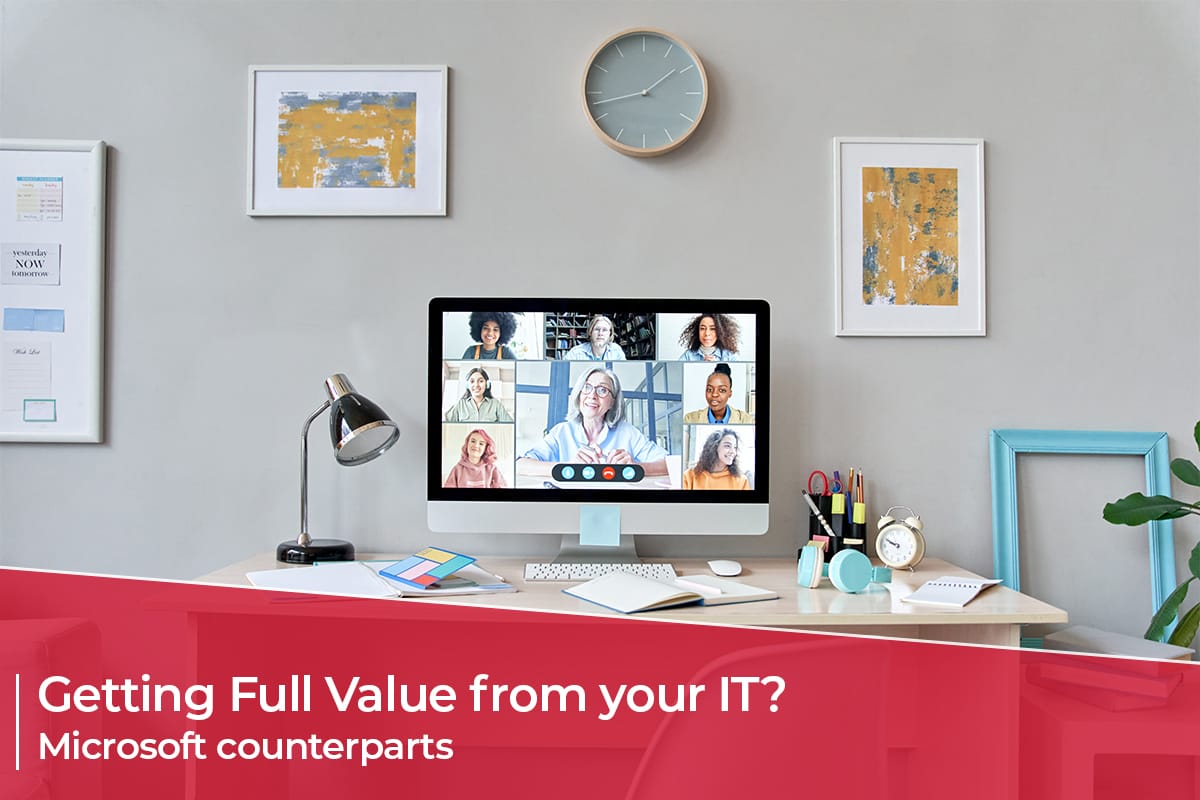 07 Oct

Get full value from your IT – Microsoft counterparts

In our previous article we explored the price rises planned by Microsoft at the end of this year, we concluded that they are justified if you are using their range of tools at your disposal to the very best of your ability.

We will now explore the tools you may be using now and see what you can replace them with from the Microsoft Suite of tools to ensure that you are getting maximum value possible from your subscription.
Microsoft counterparts:
Google Sheets
Google Sheets is a spreadsheet program included as part of the free, web-based Google Docs Editors Suite offered by Google.
Microsoft Excel
Microsoft's spreadsheet programme is Excel, although I'm sure you have heard of it already. Microsoft developed Excel for Windows, macOS, Android, and iOS. It is very similar to Google Sheets but comes with Macros programming language built in as standard making the better of the two in our opinion. Use it if you are using huge mounts of data and doing in-depth analysis in house – this will bring value to your subscription if you are using an alternative.
Trello
Trello gives you a place to organise your day, this can be done from a smartphone, tablet, or computer.
Microsoft To Do
Microsoft To Do – previously To-Do – is a Cloud-based task management app. Task management can be achieved from a smartphone, a tablet, or a computer. Both To Do and Trello are both industry leaders in their field, but why not use the Microsoft alternative if the price can be within your existing subscription, in turn ensuring value from it.
Automation 360 and Blue Prism
Automation 360 is an AI-powered, cloud-native, web-based platform. It provides you with the ability to start and scale your automation goals efficiently and cost-effectively.
Microsoft Power Automate
Power Automate helps you create automated workflows between your apps and services to synchronize files, get notifications, collect data, and more. Power Automate stands above the competition in the market due to its integration with other tools in the Microsoft suite, meaning that your work is all inter-connected and responds to one another – it allows your workflows to be seamless and easy.
Google G Suite
The Google G Suite encourages teamwork between participants in multiple locations, and includes tools like Hangouts, Calendar, and Docs/Sheets. One feature that lets it down is its security features, they aren't very equipped, if you handle sensitive information, I would avoid this app.
Microsoft SharePoint
SharePoint is used as a place to organise, share, store, and access information, it is secure and can be used from any device. It works in conjunction with all other Microsoft applications, again, meaning that your entire workflow can run as smooth as possible.
Zoho
Zoho is a word processor that allows you to type out documents and save them for later use. It comes with a variety of different fonts and styles to assist you in writing effectively and isn't too dissimilar to the famous Microsoft Word.
Microsoft – Word
Microsoft Word is a word processing program that users use for typing out documents. It allows you to create and save them, similar to other word processors it has helpful tools to create documents such as fonts and styling tools. The key thing that makes Word stand out from the crowd is familiarity, a lot of us grew up using it and know it inside out – this will make your teams lives easier when it comes to learning the programme.
Loom
Loom is a video-sharing platform that many use for in-house videos to clients. It has many uses and has great reviews online.
Microsoft Stream
Microsoft Stream – not one of the more famous of Microsoft's applications is a corporate video-sharing service which is gradually replacing the existing Microsoft alternative Office 365 video. It – like the others – makes collaboration and connectivity much easier between employees.
Zoom or Skype
Zoom and Skype – we know they are two different apps, but they are so very similar and are two of the most popular choices on the market today. Their capabilities throughout the pandemic allowed us to keep our sanity, keeping us in contact with loved ones in an unprecedented time no matter where they were around the world – and for this we have all had good experiences with them, but for business use on the other hand, these are not suitable, and you need to use alternatives.
Microsoft Teams
A relatively new addition to the Microsoft family is Microsoft Teams. The application has risen in popularity to unforeseen levels, reaching an astonishing number of 250 million daily active users worldwide – and we can see why. The app boasts features that boost collaboration, communication, and productivity unrivalled by any other on the market today – if you haven't used it yet I don't know why, it is worth its weight in gold to many.
These two articles should have highlighted the importance of justifying this price rise, you should now be sure that the tools you are using assist in your quest for value from your subscription with Microsoft. Just to reiterate, do not scrap everything just because it isn't Microsoft, but look for any way of incorporating their tools it will help you get more value for money.
Your Cloud service provider – Downtown
Our team of experts enables companies to enjoy the advanced opportunities offered by technology. Our Cloud solutions include offsite data backup, data sync services, Hosted Exchange, and Office 365. Those same experts will work alongside you to be sure we not only implement the best technological solutions to improve the way you work but also ensure everything is as straight-forward as possible. You and your team will be educated throughout the entire process and be confident that your systems are secure at all times. Contact us now to find out how we can help you.