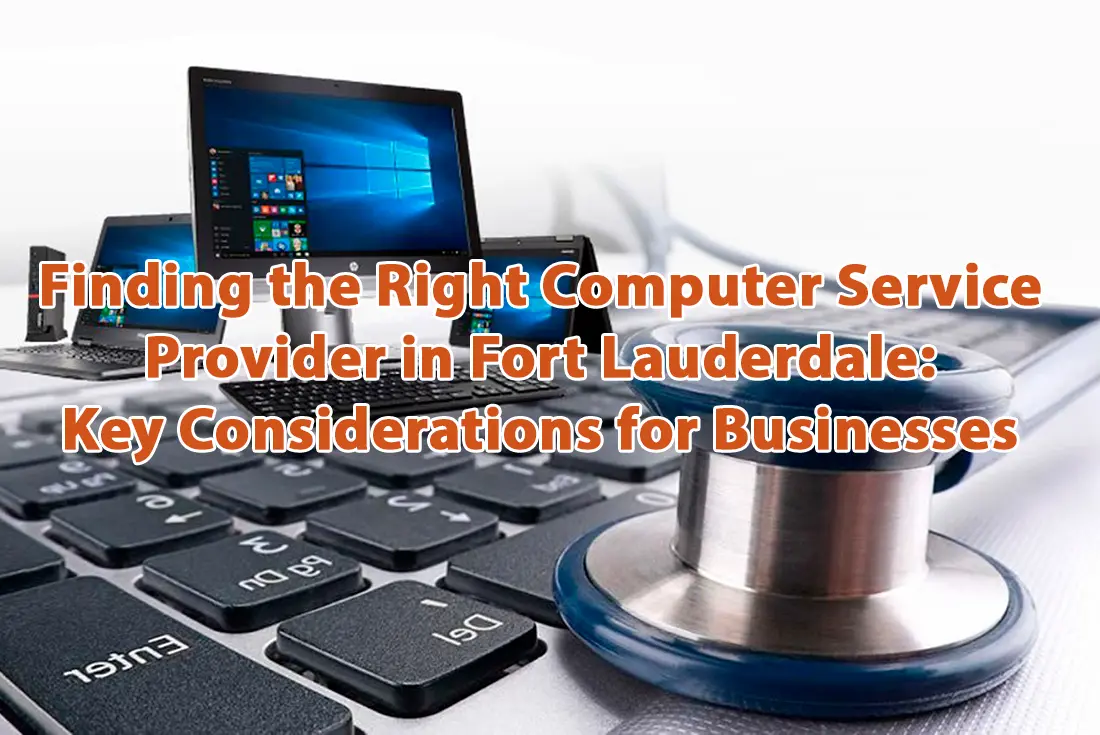 30 Oct

Finding the Right Computer Service Provider in Fort Lauderdale: Key Considerations for Businesses

Computers are crucial for businesses, aiding in tasks like communication and marketing. However, they can malfunction, requiring efficient repair services to regain optimal performance. This article discusses the importance of reliable computer repair services for Fort Lauderdale small businesses, factors to consider when choosing a provider, and the benefits of outsourcing these services.
Exploring the Importance of Reliable Computer Services for Businesses in Fort Lauderdale
Fort Lauderdale is a diverse business hub with sectors ranging from tourism to technology. These businesses depend heavily on computers for communication, product delivery, and resource management. However, hardware failure, software corruption, or data loss can disrupt operations, impacting productivity, quality, reputation, and profitability. Thus, businesses must have access to reliable computer services and support. These services can quickly resolve problems, prevent further damage, enhance performance, and save costs on repairs or replacements.
The Growing Need for Efficient Computer Services in Fort Lauderdale
As technology advances, businesses must adapt to stay competitive, and customers expect swift, convenient, secure services. Efficient computer services in Fort Lauderdale can help businesses meet these demands by updating software, installing new features, and protecting against cyber threats. However, not all service providers are created equal; their quality, speed, price, experience, and customer satisfaction can vary greatly. Consequently, businesses must carefully select a provider that offers efficient computer services and support tailored to their needs.
Downtown Computer Services: Your one-stop shop for all your computer needs. Call us now at (954) 524 9002
Key Considerations for Businesses when Choosing a Computer Service Provider in Fort Lauderdale
When selecting a computer service provider in Fort Lauderdale, businesses should consider:
Services offered: Look for providers covering all facets of computer maintenance and repair, including IT outsourcing, network setup, data backup, and hardware support.
Qualifications: Choose a provider with industry certifications, licenses, or memberships.
Experience: Opt for a provider with ample experience in handling diverse computer issues.
Reputation: Select a provider with a solid local and online reputation, indicating trust and customer satisfaction.
Availability: Ensure the provider is responsive and available when needed.
Price: Seek a provider offering reasonable, transparent pricing representing value and quality.
Businesses can identify an efficient, effective computer service provider in Fort Lauderdale by considering these factors.
Types of Computer Services Available in Fort Lauderdale and How to Determine the Best Fit for Your Business Needs
In Fort Lauderdale, there are several computer services to suit diverse business needs:
Outsourcing IT Services: This involves hiring an external provider for IT needs like network management or software development. It's ideal for businesses seeking to save on in-house IT costs and access specialized expertise. However, it may present communication issues or data privacy concerns.
Network Setup and Maintenance: This service ensures smooth online connectivity, which is crucial for businesses reliant on online operations. It requires technical skills and resources, so businesses should consider a provider that suits their budget and complexity level.
Data Backup and Recovery: This is vital for businesses storing valuable data. It aids in protecting data from various threats but can be time-consuming. Businesses should choose a provider offering reliable, secure, and convenient services.
Hardware and Software Support: This involves troubleshooting and maintaining computer devices and systems. It helps resolve technical issues affecting performance but requires specialized skills. Businesses should seek a provider compatible with their devices and systems.
Computer Repair Services: This is about repairing or replacing damaged computer components. It helps restore computers to their original condition but can be costly and risky. Businesses should opt for a fast, affordable, and safe service provider.
The Benefits of Outsourcing Computer Services for Small Businesses in Fort Lauderdale
Outsourcing computer services and support means hiring a professional provider to handle all or some of your computer needs instead of doing it yourself or hiring in-house staff. Outsourcing computer services in Fort Lauderdale has many benefits for small businesses:
Cost-effectiveness: Outsourcing eliminates costs associated with hiring and training IT staff, maintaining equipment, and managing IT licenses. It also protects businesses from unexpected expenses arising from technical emergencies. Businesses pay only for the services they utilize, ensuring transparency in pricing.
Access to Expertise: Outsourcing grants businesses access to specialized skills and technology that might otherwise be unaffordable or unavailable. It offers them qualified technicians capable of handling diverse computer issues professionally and provides access to cutting-edge tools that enhance computer performance.
Quick Response Time: Outsourced services ensure prompt responses to technical issues. Businesses benefit from a dedicated team available 24/7 and local providers who can offer immediate assistance during emergencies.
Customer Support: Outsourcing delivers personalized customer service attentive to business needs. Regular updates and performance reports inform businesses about their computer system's status.
Conclusion
Finding the right computer service provider in Fort Lauderdale is essential for businesses that want to ensure the reliability and efficiency of their computers. When choosing a computer service provider in Fort Lauderdale, you should consider the services offered, qualifications, experience, reputation, availability, and price.
Types of computer services include outsourcing IT services, network setup and maintenance, data backup and recovery, hardware and software support, and computer repair services.
Outsourcing computer services and support can benefit small businesses in Fort Lauderdale through cost-effectiveness, access to expertise, short response time, and friendly customer support.
If you are looking for a reliable and reputable computer service provider in Fort Lauderdale that can offer you efficient and effective computer repair services, contact Downtown Computer Services today. We have the advantages of quickly identifying breakdowns, reliable service, experienced specialists, and a warehouse stock of spare parts.
Call us now at (954) 524 9002
---
Check out other relevant news