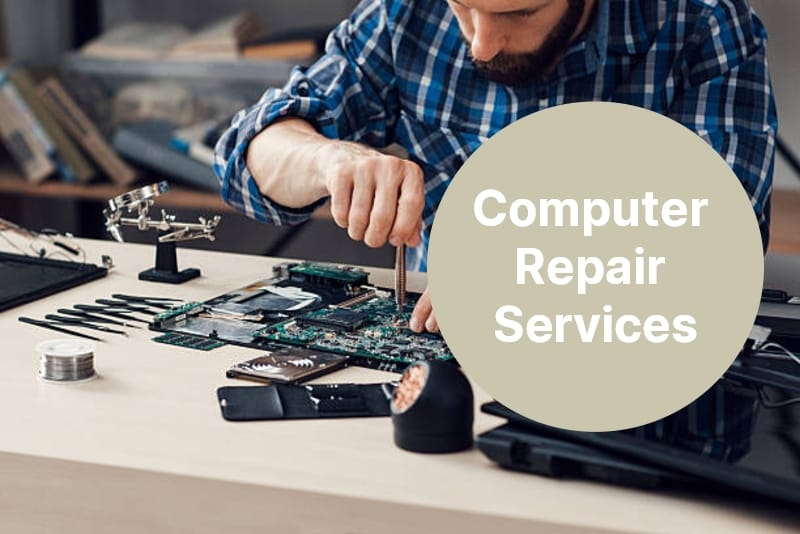 13 Mar

Fast Computer Repair Service in South Florida

Are you stuck dealing with a broken computer and live in South Florida? Look no further than our computer repair service! We specialize in quick and reliable fixes with experienced technicians ready to get your device running again in no time!
Diagnose the Problem Quickly and Accurately
Our repair technicians provide fast and reliable diagnostics to pinpoint the exact cause of the problem. Whether it's a virus, hardware issue, or software glitch, our technicians have experience in dealing with all kinds of computer issues and will be able to quickly identify and rectify the issue. With our speedy diagnosis, you can have your computer up-and-running as soon as possible!
All of our technicians are certified and up-to-date on the latest technologies, that way you can be sure that your computer is in good hands. Our advanced repair services cover everything from virus removal to data recovery, and more. We also carry out hardware replacements such as hard drive and RAM upgrades, so your computer system can keep up with the demands of modern technology. So if you're looking for reliable computer repair services in Florida, then our team is here to provide you with fast and effective repairs that get your machines back up and running in no time!
Do you need to diagnose your computer and determine the problem?
Our Computer technician is ready to perform free computer diagnostics and repair a malfunction.
Request a call back or call (954) 524 9002 right now
Install and Check for Updates
Keeping your computer up-to-date with the most recent software and driver updates is an important way to make sure that everything runs smoothly and efficiently. By regularly installing updates, you can lessen the risk of virus infections or other malicious programs from affecting the performance of your machine. Our technicians will check for available updates and will keep your software and drivers up-to-date, providing maximum protection for your system.
Furthermore, our technicians are skilled in troubleshooting and can help repair your computer if it is experiencing any unexpected issues. Our team will get to the root of the issue quickly, finding solutions that make sure your computer is as optimized and maintained as possible. We strive to make sure you are completely satisfied with our services, offering reliable computer repairs and maintenance for customers throughout Florida. With Downtown Computer Services, you can feel confident that your laptops and desktops are in safe hands.
Do you need to install software or update installed software on your computer?
Our software service specialist is ready to update the software on your computer or install the new software you need for work or play.
Request a call back or call (954) 524 9002 right now
Perform General Maintenance Tasks
In addition to driver and software updates, our technicians will run a full system scan to detect any other potential issues. We'll strive to optimize the performance of your computer by clearing out any unnecessary files or programs, as well as performing general tune-ups. Our experts will also make sure that your system's security settings are up-to-date so that your online activities remain secure and private.
Our technicians are experienced in fixing a wide range of hardware issues, including Motherboard replacement, RAM or Storage upgrades, Power supply replacements and more. We can also detect and remove any malware or viruses on your system, so you don't have to worry about online security threats. Our customers can rest assured that our computer repair service in Florida is designed to meet the highest quality standards.
Provide Software Solutions & Installations
Our technicians can keep your laptop or desktop running like new again with software solutions and installations. We provide our customers with the necessary tools and instructions to install, troubleshoot, and update programs needed for everyday computing purposes. This includes word processing, spreadsheets, antivirus programs, security patches, and more! Furthermore, our expert technicians will diagnose any underlying issues that may be causing various errors or glitches to restore full functionality of your system.
Our knowledgeable technicians use the latest technology and have the experience to identify issues quickly and provide detailed reports of our findings so that you can make an informed decision. Whether it's virus removal, data recovery, or simply repairs and maintenance – rest assured that our computer repair service in Florida will get your machine running as designed. With an outstanding customer service team available 24/7, you can always count on us when you require a professional opinion or assistance with a job.
Get the Office 365 software installed on your computer with help from our Office 365 Support for business or home.
Our Office 365 Support specialists are ready to carry out an assessment free of charge for you. Request a call from our specialist today!
Request a call back or call (954) 524 9002 right now
Remove Malware, Viruses & Spyware from Your System
We understand the importance of keeping your computer safe from malicious viruses, malware, and spyware. Luckily, our experienced technicians are equipped with updated antivirus software that can detect and remove any potential threats quickly, without compromising data. We will also provide you with helpful tips to prevent any future infections. Ultimately, we strive to give our customers the protection they need when using their laptops or desktops in South Florida.
Aside from malware and virus removal, our services here at cover a wide range of computer repair services. We can diagnose and repair hardware as well as software related issues for laptops, desktops, and tablets. If you are having any difficulties with your computer, contact in South Florida today! Our experienced technicians will work with you to determine the specific issue and help your device get back up and running quickly.
Do you need to remove malware, viruses, or spyware from your system?
Our computer security specialist is ready to scan your computer for malware and viruses and eliminate computer infection. Request a call back or call (954) 524 9002 right now.
Request a call back or call (954) 524 9002 right now