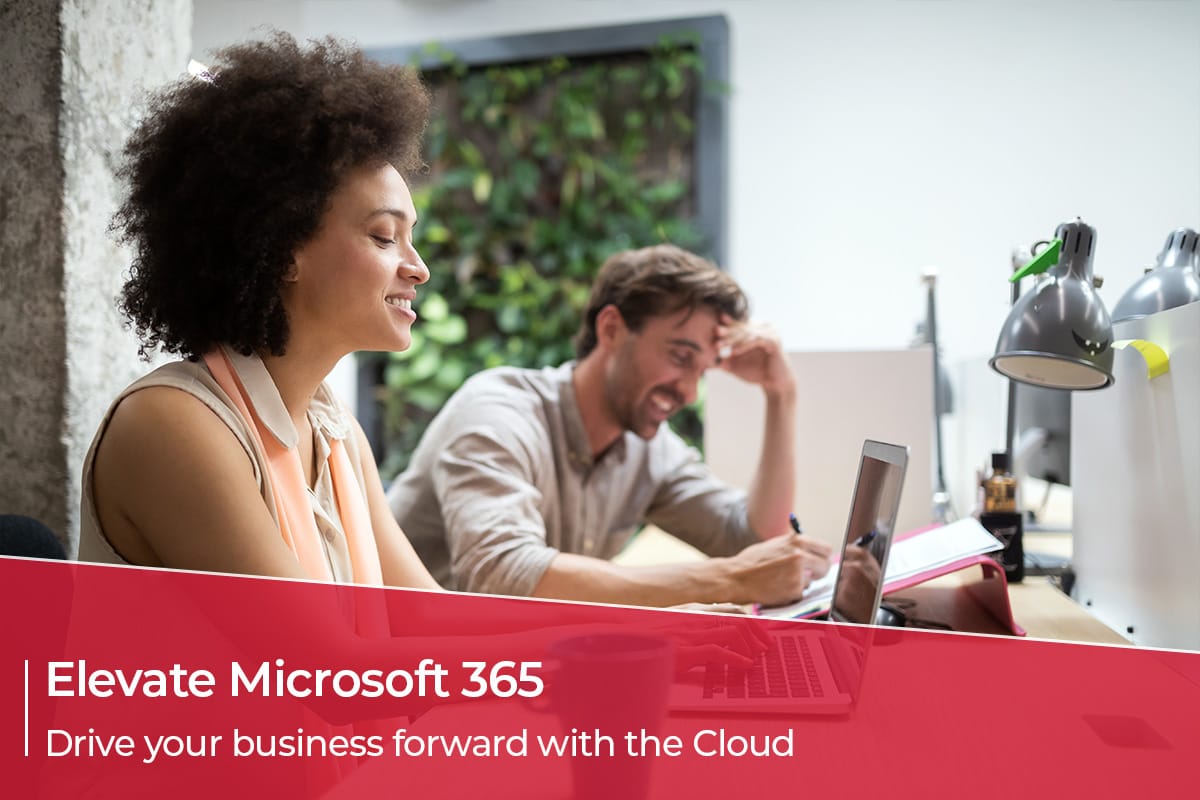 31 Mar

Elevate Microsoft 365 – Drive your business forward with the Cloud

Hints, tips, and tricks to drive your business forward with the Cloud.

So, you have made the migration to the Cloud, but what do you do now? How do you get the best possible results out of it?

No matter the reason you have decided to adopt the Cloud, whether it be as a modern revamp of your workplace by replacing your old server, in the hope of increasing the levels of productivity and your capabilities, or you want to reap the benefits of the flexibility that your workforce will be able to enjoy, Microsoft 365 is the answer.

In the modern workplace, there are two key challenges that most businesses need to overcome – document management and communication – and existing concerns that have been accentuated further with the rapid transition to remote working that has happened over recent months.

As we explained briefly in the last blog in the series, most have only used just a small percentage of what is possible within Cloud services.

To help you get more value from these tools, we will now explore some parts of the Cloud that you may not know so much about. We will share our opinion on three key features that we believe to be a must, the advantages and benefits of those features in 365, and what they have to offer within the Cloud to assist you in providing an effective, efficient, and productive working platform for your team.
OneDrive
OneDrive is essentially your personal space in the Cloud where you can organise files and folders, unlike SharePoint which is more of a team site for multiple members to have access and input, OneDrive is typically personal to you. OneDrive is at the base of the Cloud's capabilities; it is a platform that allows you to store and access individual files. The best features of OneDrive are that you can do everything through the browser, and instead of having to use a VPN (Virtual private network), you can just access files through a shared folder based in the SharePoint library.
SharePoint
Again, we touched on SharePoint in Microsoft 365 briefly in the last blog, but let's really explore what it can do for you.
SharePoint in Microsoft 365 is for businesses of all sizes. Instead of installing it on-premise, any business can subscribe to a Microsoft 365 plan. It allows your employees to create sites to share documents and information with colleagues, partners, and customers alike from anywhere. But you already knew that, so let's break down some of the reasons why SharePoint is so good.
Improved data management
Today's workforce is inundated with data every step of the way. Most of this data consists of emails, or, if not, then it's customer support requests, marketing reports, or others. This can create an overwhelming working experience, even more so when an attempt is made to organise it. Yes, you can create a labyrinth of a file system on your desktop to keep track of your documents – that'll work, right? In some ways you are correct, but what if one of your remote workers needs access to one of the files?
The data that your organization receives is often in different formats, from different sources, about different subjects, and belongs to different teams, so, understandably, this can make it impossible to organize and keep track of manually even for the best organizers. SharePoint can, in an instant, allow you to take control of the exact data you need – stopping the need for you to sift through everything else to find what you need.
Collaboration
No matter the size of your workforce, it is essential that your team know-how – and have the opportunity – to communicate and collaborate as effectively as possible. If they don't then, quite simply, your business could be set up to fail. For example, it can be difficult when one member of your team sends a version of a document over to another member for review but then remembers they want to add something to the document without the knowledge of the recipient and without resaving it. You now have the predicament of no one knowing which is the most up-to-date version of the document. SharePoint features version controls that track every single edit made to a document, along with the time it occurred and the person responsible.
Productivity
Time is a commodity that we only have a limited amount of no matter how much we wish – and sometimes yearn – for more. Hours are spent every week digging through the filing system to find a file, whether that be a physical filing cabinet or clicking through copious amounts of files – it can be a frustrating experience to have to devote your limited time to such an unnecessarily laborious task. SharePoint removes the need for long searches and narrows that task down to just a few clicks – this way you don't lose your employees to the chasm that is the company filing system. With the organizational capabilities of SharePoint, you can include only folders and subfolders that you need, allowing easy access for your employees to the document / file they need there and then, making this perfect for those times that business defining decisions need to be made in limited time. As you can tell, this is advantageous to business owners, but it is also equally as beneficial to your employees. The time that they have been spending looking for files can now be spent on the skilled tasks they were employed to achieve.
Microsoft Teams
We touched on Microsoft Teams briefly in the last blog in the series. Let's explore some of the best features of Microsoft Teams now.
Teams – The Teams function in Microsoft Teams (confusing, I know) allows communities, groups, or teams to join through a specific URL or invitation sent by a team administrator or owner. This is a place for everyone to consolidate their information, and Teams is the place – if set up correctly – that everyone knows to go to for client information.
Channels – Within a Team, members can set up Channels. Channels are topics of conversation that allow team members to communicate without having to use emails or a group message. Users can reply to posts with text as well as images, GIFs and custom-made memes, allowing for serious work chat or light conversation between colleagues.
Chat – Chat is exactly as it sounds – a place to have a chat. The difference between Chat in Microsoft Teams and other similar messaging applications is that it is persistent, so users do not have to check the conversation history. Again, users can have an informal chat with emojis, or have a serious work conversation, all in one place. Chat also allows you to flag a message as important or urgent for your colleagues. But the most impressive feature of Chat is the ability to file share. Being able to do all of this in one easy-to-use place is invaluable to a business.
Calling – It is possible to make calls within the Chat feature, and you can also make video calls 1-1 or in a meeting with many more.
These are just a few of the reasons using Microsoft Teams can really utilize your Cloud platform to its full potential.
Microsoft Teams is leading the charge in Cloud tools – it is the friendly interface that combines document management and communication into one easy to use place, making IT a breeze even for the lesser IT literate members of your team.
Your Cloud service provider – Downtown
Our team of experts enable companies to enjoy the advanced opportunities offered by Cloud technologies. Our Cloud solutions include offsite data backup, data sync services, Hosted Exchange, and Office 365. Those same experts will work alongside you to be sure we not only implement the best technological solutions to improve the way you work but also ensure it is as straightforward as possible. You and your team will be educated throughout the entire process and be confident that your systems are secure at all times. Contact us now to find out how we can help you.