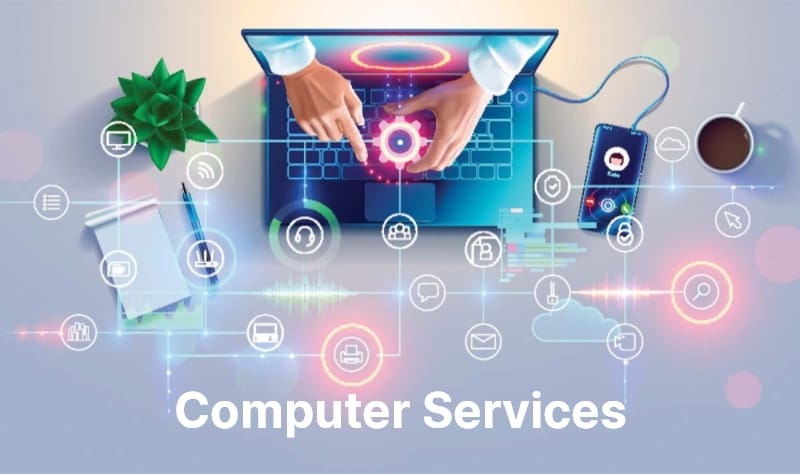 21 Mar

Computer Service – 5 Tips for Choosing the Right Computer Service Company

Whether you're looking for a one-time repair or ongoing IT support, choosing the correct computer service company can make a world of difference. We'll help you find the perfect provider for your needs, from basic maintenance to advanced troubleshooting and data recovery.
What Computer Services Does the Downtown Computer Services Provide in South Florida?
Downtown Computer Services provides a variety of computer services including virus removal, software installations, hardware repairs, data recovery, and IT consultation. With over 20 years of combined industry experience from their team of certified engineers, they strive to deliver rapid service with the highest quality of customer support. Their technicians are trained to provide professional advice and friendly service to make sure all your tech-related needs are taken care of efficiently and affordably.
Whether you're dealing with a slow computer, an operating system that won't boot, backups that need to be made, or just general advice on how to make your PC run smoother and faster, Downtown Computer Services can help. Their experienced technicians are trained to evaluate and diagnose hardware issues quickly, so they can begin the repair process as soon as possible. In addition to resolving common hardware problems, they also offer comprehensive IT consultation services, so clients can have access to professional advice and assistance when needed. With their customer service line and same-day appointments available in South Florida, Downtown Computer Services is a reliable resource for all your tech-related needs.
Needs troubleshooting your computer?
Get a Free Consultation with Downtown Computer Services! Our computer repair technician is ready to carry out free computer diagnostics in our repair shop and perform repairs. Request a call back or call (954) 524 9002 right now.
Downtown Computers Offers Computer Repair And Service
Downtown Computers provides comprehensive repair services designed to keep your computer running smoothly and securely. Their team of certified technicians have years of experience in repairing both desktop and laptop computers, as well as servers and related devices. Their team is available to troubleshoot any device issues, install software updates and hardware upgrades, replace broken parts, quickly resolve issues with malware or other viruses, and any other necessary repairs to get you back up and running quickly. In addition to their exceptional repair service, they also offer preventative maintenance services designed to help extend the life of your computer equipment.
Downtown Computers also offers a variety of service contracts to meet the specific needs of your business or organization. Their team is available 24/7 for emergency repairs and can be onsite in just minutes if required. They understand the importance of keeping computers up and running, so their experienced team provides fast and reliable service at an affordable price. In addition to repair services, they can install new computer systems, network servers, printers, or any other technology equipment you require. No matter what your IT needs are, Downtown Computers has you covered.
Needs troubleshooting your Windows Laptop or MacBook?
Our Computer Repair technicians are ready to carry out free computer diagnostics in our computer repair shop and perform computer repairs. Request a call back and call (954) 524 9002 right now.
Installing And Updating Microsoft Office 365 For Home Or Business
Whether you are a home user or a business, it is important to have the latest version of Microsoft Office 365 installed on all computers. Microsoft frequently releases updates and patches for the software suite, and installing these updates can ensure that your documents remain secure, up-to-date, and functioning properly. Downtown Computers can install the latest version of Office 365 on all computers in your home or office, as well as keep you up-to-date with new version releases. Talk to them today to learn more about their installation and update services.
Installing the most recent version of Microsoft Office 365 will help keep all of your programs running smoothly and allow for a better collaboration between colleagues. Additionally, Downtown Computers offers complimentary phone support, so you can feel secure contacting them with any questions or issues that arise. With their team's expertise in computer systems and Office 365 software, you can always be confident that your system is secure and up-to-date. Don't let an outdated version of Microsoft Office risk knocking down the efficiency of your office; provide your business with the service it deserves by updating or installing its version of Microsoft Office today.
Do you need to install software or update installed software on your computer?
Our software service specialist is ready to update the software on your computer or install the new software you need for work or play. Request a call back or call (954) 524 9002 right now.
Virus Protection And Cleaning Your Computer From Malware
When it comes to keeping your computer safe and secure, you must install an antivirus program and set up regular scans. If your computer gets infected by a virus or piece of malware, Downtown Computers can help you restore the device back to working condition. They have virus protection services which can protect your computer from various threats as well as specializing in malware removal for when viruses have already managed to find their way on.
The virus protection services from Downtown Computers cover all the major antivirus and anti-malware programs which are on the market. They also know how to work with different operating systems, ensuring that your computer will be completely protected in all environments. When it comes to malware removal, the technicians have access to all the major tools used by security professionals and will use whatever is best suited for your system, eliminating any threats they find while also restoring back any files or settings corrupted by them.
Do you need to remove malware, viruses, or spyware from your system?
Our computer security specialist is ready to scan your computer for malware and viruses and eliminate computer infection. Request a call back or call (954) 524 9002 right now.
How Can Downtown Computer Services Help With Your Unique Needs?
At Downtown Computers, their computer services are tailored to fit your unique needs. Whether you require virus protection installed or malware removed from your device, they can help by providing services specific to the issue. In addition, they specialize in data recovery and system optimization. This means that they can help to improve the efficiency of your system so that it runs faster and smoother. They can also help with setup and hardware repairs if required.
With their commitment to putting the customer first, Downtown Computers provides service with a personalized touch. They can identify the issue and then tailor their solutions to provide you with the best outcome. Their knowledgeable and friendly staff are committed to addressing any current or future concerns that you may have about your computer so that you can get back up and running quickly. By taking their time to understand your particular needs, Downtown Computer Services can help keep your computer running at its optimal level for years to come.
Get a free consultation from Downtown Computer Services!
Our computer technician is ready to discuss with you the necessary IT or computer services you require.
---
Check out other interesting news: