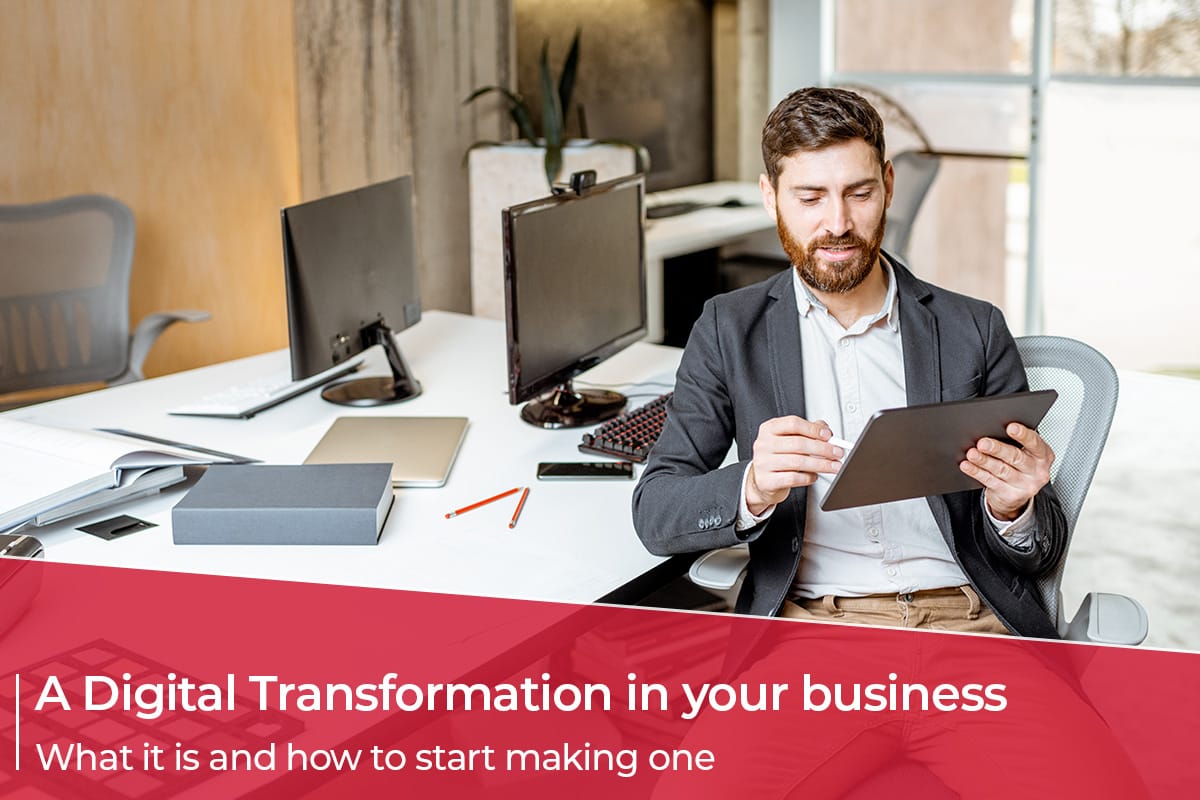 25 May

A Digital Transformation in your business: What it is and how to start making one

Technology, the lifeblood of the modern world, and its presence in our daily lives is more prominent now than it's ever been before. This is due to the rapid advancements in technology that we have made over recent years. Having said that, it would be fair to mention that the most abrupt and unforeseen change in the reliance we have in technology happened early last year with the onset of Covid-19 forcing businesses – practically overnight – to adopt a remote working team in the hope they could continue trading to a standard at which the company could survive.

This unforeseen – and, for some, challenging – change to the way we work has opened business owners' eyes to the power technology has. With the change to a heavily technologically-lead working experience, operational challenges can be solved – in turn, making your team's working lives easier, and allowing the delivery of services to be completed more efficiently. This is called a 'Digital Transformation'. Let's break it down now.
A Digital Transformation – What is it?
A Digital Transformation is the process of adopting different digital technology with the intention of transforming services or businesses by replacing unnecessary manual processes or older digital technology with modern, capable, technology.
Don't rush headfirst into a transition! You must take time to fully consider the operational and compliance impact on your business before undertaking one. However, this being said, not undertaking one at all could have the same effect – potentially impacting customer experience, regulatory compliance, security, staff performance and general well-being, and, most importantly, your bottom line.
There is one thing that must be done before starting your transformation journey if you want it to be a harmonious one which is that you must understand the challenges that those in your industry – and your organization, in particular – face on a daily basis. In this way choosing the best digital solution for you will be a much easier task, and you will also be more likely to get the solution that is best for the way you want to do things.
The challenges you face on a daily basis
Depending on the industry sector in which your business resides, the challenges you face daily will differ, but, essentially, the bare bones are the same no matter the organization.
> The care of sensitive information
Practically every business in the world carries some sort of information about their clients; whether it is contact numbers, addresses, or bank details you have a responsibility for all of that data, the protection of it, and its storing. The care of sensitive data/ information must be at the very top of your business challenges – there is no room for error where the care of sensitive data is concerned.
> Regulatory and compliance obligations
All different industries have different regulatory bodies they must adhere to – the Department of Health and Human Services (HHS) for all that provide healthcare, and the Florida Bar and its Department of Lawyer Regulation for lawyers for example – all of which have rules and regulations that are hard to understand and comply with. You must be certain you have the tools in place to guarantee compliance or you may risk legal ramifications.
> Unfit, untailored, standard, traditional IT
Most businesses around the world don't work to their full potential with 'standard' IT equipment, as forcing an organization down a restrictive road of practices that are not designed specifically for the organization to make things quicker, easier, and boost productivity simply will not work in the long run.
You know what a Digital Transformation is and the first steps to undertaking one. In the next – and last – blog in this series we will explain the benefits of a Digital Transformation and the options on the market to help finalise your decision when implementing a change.
The tech specialists are here to help!
We at Downtown Computer Services provide expert help to anyone looking to utilize technology's full capabilities. We can assist you in implementing a tech solution that best suits the way your workplace functions. Allowing you to reap the benefits of modern IT can, and will, change the way you and your team do business. We want to become a member of your team and support you with all your technical and operational worries, making them a thing of the past.
Contact us now to find out more.