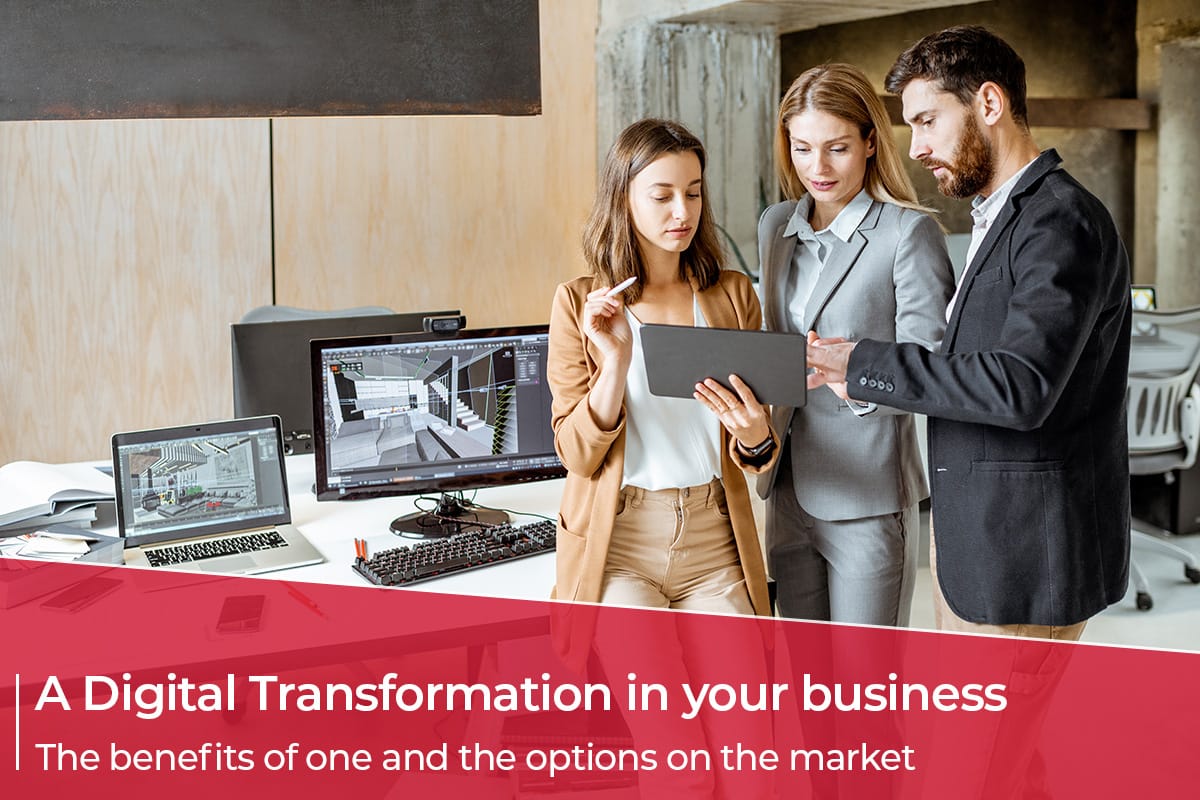 25 May

A Digital Transformation in your business: The benefits of one and the options on the market

As we explained in the previous blog in the series, technology has become the beating heart of the world and nowhere is this more apparent than in the world of work. Advancements in technology over recent years, and more recently Covid-19, have shifted our reliance well and truly in the corner of technology. This is hardly surprising with the majority of the world's organisations being forced to adopt a remote working team at a moment's notice just to stand a chance of their business surviving.

Along with this sudden change has come enlightenment, with business owners realising the potentially business defining changes that the right technology has the power to produce. This tech can solve some of the most deeply rooted challenges that your organisation faces. A Digital Transformation is the term used (as explained in the first blog in the series – A Digital Transformation in your business: What it is and how to start making one).

We explained in the previous blog that, before starting your digital transformation, you must first accurately identify what the challenges are that your business faces on a daily basis, because, by doing that, you can be certain that your new digital solution will be the right one for you.

We will now explore the benefits that can come from having a successful Digital Transformation.
The benefits of a successful Digital Transformation
> Improved team well-being
Poor IT can be a real drain on morale for your team members. Using IT that can't do the job – or worse, can do the job but takes an age – is a one-way ticket to a team that isn't enthusiastic about their work. The difference that using a pain-free, straightforward digital experience for the use of IT can have is truly remarkable, and the positive impact on the health and well-being of your users can be huge.
> Commercially beneficial
Digital Transformation is commercially beneficial for a variety of different reasons – for example, if you are achieving an outstanding level of team well-being then they are going to produce more, better quality pieces of work due to their elevated mood and this, in turn, will mean more output, which means more money coming into the business. And this is just one example of how it can be commercially beneficial. It goes without saying in the modern world that adopting a digital solution that can handle the way you work perfectly will have many commercial benefits.
> Flexibility
Modern technology is usually entirely flexible and can scale with your organisation accordingly. Covid-19 has made this a necessity. What is the point in paying x amount a month for a large package of x number of users when you've had to lay off team members in the organisation by almost half? With a modern IT solution – in the Cloud – you can be on a monthly subscription basis which literally allows you to pay for what you actually need.
> Regulatory compliance
With the right digital solution, you can be certain that you are abiding by industry regulations and government legislation. If best security practices are used when operating the new system at all times you can be confident that your compliance issues are in the past.
Now that you have understood the benefits of a Digital Transformation in your organisation, decided a Digital Transformation is necessary, and broken the challenges down in your organisation, it is time to find a solution that best suits your business. Let's take a look at some of these now.
Digital Solution options on the market
A Cloud-based file server
This is the method of choice for the majority of organisations globally, as Cloud computing is the future of IT for the planet. A Cloud-based file server is a virtual server (rather than a physical server) running in a Cloud Computing environment and is perfect if you have specific applications or databases that need hosting.
Cloud-based file-sharing system
Cloud-based file sharing (otherwise known as online file sharing) is a system in which a user has their own storage space on a server and everything is carried out over the Internet. This method can, however, be a difficult one to use for many businesses in the world, as it is practically impossible to implement a 'need-to-know' security protocol surrounding data as user permissions cannot be ring-fenced.
An on-site file server with a VPN / Remote Desktop Connection
A VPN (Virtual Private Network) / Remote Desktop connection is a viable option for some with its ability to perform anonymous information transactions, but – with the majority of teams being less technically familiar – most find it clunky. It is also completely reliant on an unfaltering internet connection 24/7 and constant device-by-device support. Also, it can be practically impossible to connect to mobile devices – which simply is not practical in the modern world. All of this and the need to seek the help of IT administrators to administer it make it an unpopular option.
SharePoint implementation
SharePoint is vastly growing in popularity, as an accumulation of SharePoint within Microsoft 365's range of tools is a more than capable set-up for many. Most already use the Microsoft suite of tools in some capacity or another so it's just logical for your team members to keep as much familiarity as they can wherever possible. SharePoint provides staff with access to the documentation they need, no matter the user's location – and it can do all of this whilst being structured around the users' needs.
These are just some of the many different digital solutions available on the market today.
The tech specialists are here to help!
We at Downtown Computer Services provide expert help to anyone looking to utilize technology's full capabilities. We can assist you in implementing a tech solution that best suits the way your workplace functions. Allowing you to reap the benefits of modern IT can, and will, change the way you and your team do business. We want to become a member of your team and support you with all your technical and operational worries, making them a thing of the past.
Contact us now to find out more.