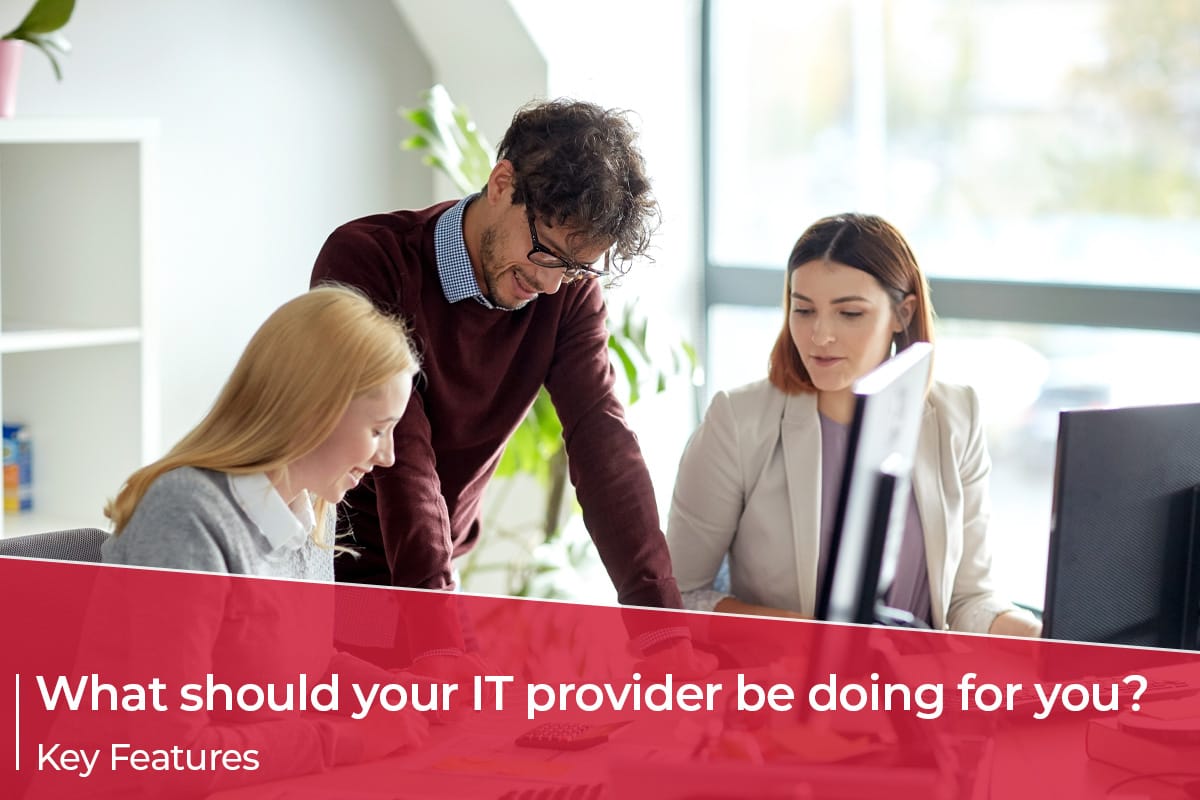 15 Apr

What should your IT provider be doing for you? – Key Features

In the previous blog in this series, we covered the importance of good IT management by your provider, the potentially business-defining consequences of poor IT support, and the various reasons why people change providers.

In the upcoming blog we will highlight what your IT provider should provide you.

There are good IT support providers out there who possess all the necessary skills and core competencies and service values that you deserve. With so many potential providers available on the market it can be a real challenge to find that perfect provider that ticks every box, and this can be made even more difficult with all of them claiming to offer the best service.

Here are the key features to look out for in your current, or any new prospective, IT support partner to ensure you get what your organization is going to need to excel and develop with IT as the powerful ally it should be.
Structure
How is the support the company offers structured? How do they rate the issues you present them with? The structure of the Helpdesk (or Service Desk) can make all the difference to the speed and quality of service you receive day-to-day. Providers will either operate with a call answering style service, which will simply log a ticket for you and note some of the details – depending on the individual's technical prowess and experience they may then begin to triage your issue; some other providers will man their phones with technicians who can immediately begin a triage and, in some cases, bring a solution to your problem to the table, all on the back end of the call.
A good provider will triage service issues and requests – they will identify the severity and nature of your problem, and once having done that permit the technical team to act accordingly. A lot of good providers structure the triage on a 1st, 2nd, and 3rd line of support basis, allowing your issue to be assigned to an appropriately skilled engineer who immediately knows the severity and urgency of your issue, in turn, enabling them to begin to start an effective fix.
If the provider lacks structure in the handling of new service requests and therefore fails to triage cases properly, this will likely cause you to suffer delays – while the provider's team pass the case from engineer to engineer. A much better system is for a properly triaged case to be issued directly to an appropriately experienced technician.
People
It is beneficial to get to know the people you will be working with; find out who will be your main point of contact, and who will be managing the relationship between your companies. Do you think you will get on with them? Do you see a beneficial relationship forming? The interpersonal relationship between you and your point of contact needs to be an at least beneficial one; it can be the difference between a relationship that works and one that doesn't.
Tools
Check that the provider possesses professional tools to log and manage tickets, and a RMM (Remote Monitoring Maintenance) tool. A good IT provider will have the right tech tools in place in the background for proactive maintenance and structured service delivery. Having a provider that utilizes the right industry tools will make the difference between receiving effective communication and transparency from them, or not.
Reporting
A good IT provider will show you health and IT reports for your business. There should be some sort of asset management to help with road mapping, and they should report on their hours and the level of support that they provide. All of the above are important to ensure you are kept in the loop about the way in which they conduct themselves in relation to your business both now and into the future. The information in these reports is invaluable to you, and will not only allow you to evaluate the service level and relationship with your provider but 'give you the wheel' to your IT systems, allowing you the ability to plan strategically for the future of your IT.
Communication
A good IT provider will be in constant contact with you. In this communication you should know who can escalate your issue, who will look at the best methods of initiating future plans and how their support team will keep you updated on any service requests.
A provider with effective account management and good communication alongside it will take complete ownership over your IT picture. That does not mean only in regard to issues with the service or systems, but also reviewing and considering strategically forward-planning advancements in technology that will be beneficial to the growth and development of your business.
Hours
Your provider's operational hours need to coincide with yours otherwise there would be no use being with them. This sounds obvious, but, if you presume that your operational hours coincide and they don't, you may end up calling for support merely to hear a voicemail saying the 'office is not open till morning' or something along those lines, and that could severely effect operations in your organization.
Some providers operate with longer operating hours that may better align to your hours of business – some even deliver a full 24×7 service, or additional weekend hours upon request. You must find out what hours they are available to you.
Portfolio
It is beneficial to look at the 'portfolio' of the provider to see if they offer a wide range of products and services. This will also help you to determine how broad the range of managed IT services they offer beyond simply the IT Support, including: cloud services, backup, disaster recovery, and cybersecurity. Make sure your provider covers all the stops before committing.
SLA's – Service Level Agreements
Check what they are obliged to provide in your contract! An SLA (Service Level Agreement) is a set of minimum service parameters a provider will 'guarantee' to meet in the delivery of your service.
These obligations can range from response and reaction times (for support cases or requests that you log) through to grading levels of the speed of response based on the severity of the case.
It is beneficial to appreciate the figures behind the SLA to ensure that your expectations are met, because that grading could mean the difference between prompt support, or not.
Industry Knowledge
Your provider should know your industry inside and out. There are many reasons this can be advantageous to you. Every business is affected by GDPR (a body of legislation for data protection) but many other industry compliance and regulatory obligations also exist that could likely have an impact on how you use your IT.
Yes, a computer is a computer no matter what industry you are in. However, possessing intimate industry knowledge will give an IT provider a keen edge on resolving issues with your specific line of business applications, while also providing a foundation of knowledge that will better enable them to anticipate and forecast your IT needs as your business evolves.
These are just some of the ways to ensure that your IT provider is covering all the bases when it comes to your IT support. Ticking everything off the list will assure you that they are ready and prepared to support your IT and help you to go into the future with your IT as a powerful ally -capable of helping you and your users work to an impeccable standard.
The IT support specialists
Your IT is the beating heart of your business and it needs looking after! Our team of experts can provide you with Cloud services that have the power to revolutionize the way you work. We at Downtown Computer Services offer a wide range of managed IT service plans catered to fit your needs, whatever your budget, whilst utilizing cutting edge technology to improve the efficiency of your organization. We will help you to get the most from your digital landscape both through advanced levels of security and outstanding support. Contact us now and see what we can do for you.