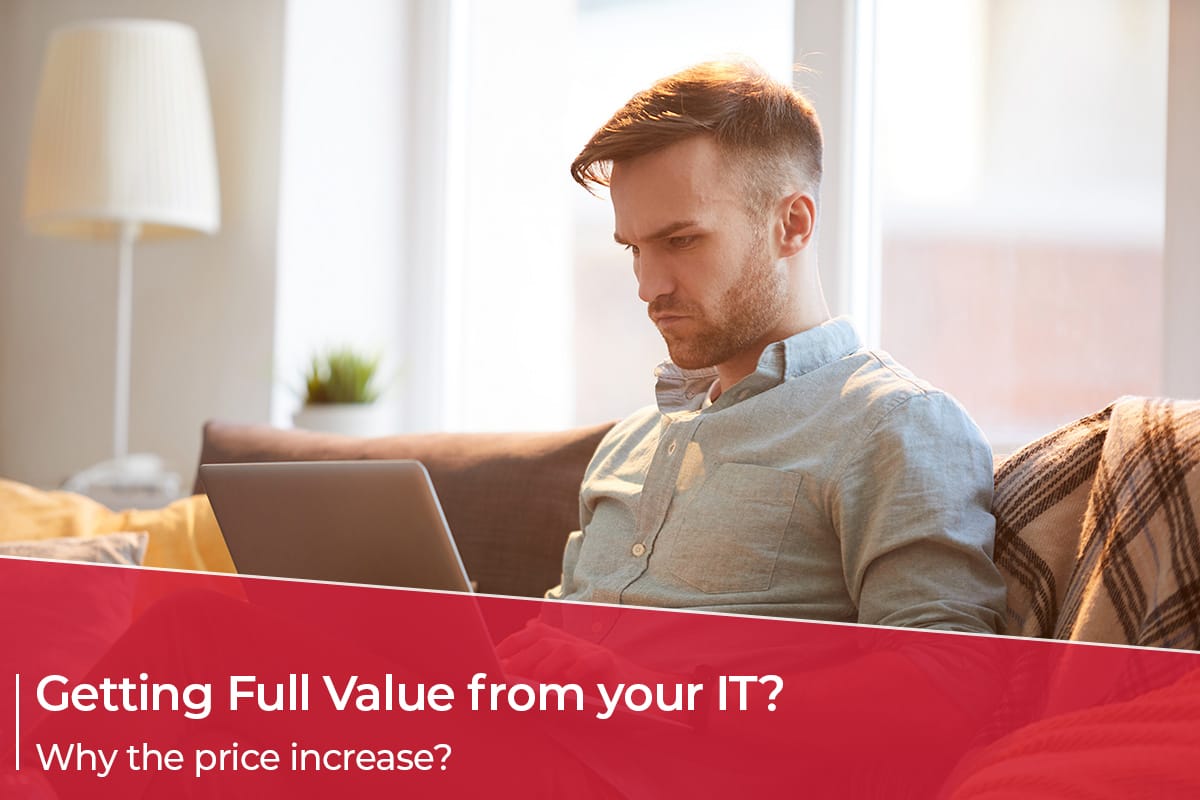 07 Oct

Get full value from your IT – Why the price increase?

It has been announced recently that Microsoft will be making some pretty big changes to their commercial price plans for 365. It has come as quite a shock to some as it is the first price rise that Microsoft have announced that is substantial, since Microsoft Office was launched back in November 1990 – so you can see why people are losing their minds over it.

Understandably, some people are annoyed, after the unsettling time that we are trying to recover from it seems unfair to put prices up, but we have to say, haven't Microsoft justified the increase in price? Microsoft have increased the value their tools continually deliver to their customer base, if you really consider how wide their range of tools is, the changes that have been made over the last few decades, and the way that they have revolutionised workplaces across the world in the process – assisting them to grow in an ever changing technologically driven world, I think they have earnt it.
Why the price increase?
I know what some of you are thinking, greed, that's why they have raised prices, but that isn't the case. Microsoft is really pushing the value that they have added to their various product suites over the years as a valid justification of any increase in price, for example think of the tools you use every day, think how long you have used them for, haven't they changed, improved, and generally become easier, better tools to use?
Value is of course subjective, but I think the majority of users would agree that their suite of tools have increased in functionality over recent years and therefore increased in value. Of course, I have no doubt that these price increases are obviously financially motivated – according to their FY Q4 earning report Business Office subscriptions make up a mere 20% of their quarterly revenue, this is of course a number that they would like to increase¹, and can you blame them?
As much as Microsoft are coming across as the bad guys for raising their prices, they aren't going to be the only ones, all Cloud providers are expected to raise prices as they are focusing on their average revenue per user. Cloud providers do this so as to ensure that they provide a service that reflects the level of subscription the client is contracted to.
According to the FY Q4 report we mentioned earlier, it is apparent that Microsoft are trying to guide you to a E5 or E4 bundle. Let's very briefly look at the bundles for those that don't know.
The E3 bundle – Comes with a full license to install the desktop version of Excel, Word, Outlook, OneNote, and Publisher
The E5 bundle – Offers the same tools as the E3 one but with Microsoft Advanced Threat Protection software that guards your company against malicious threats in email messages, attachments, and links
Microsoft aren't silly, they are raising the prices in such a way that you are tempted to purchase the E5 bundle, because the gap in worth between the E1 and E3 bundles is much smaller. The have also cleverly bought the two prices of E3 and E5 closer together by increasing the price of E3 and keeping E5 the same, which in turn will make people skip over E3 all together and go straight for the full E5 package.
Your role before the change.
You need to take some time to dissect the products you have at your disposal in an attempt to really pinpoint the value that you are getting from them – and in turn your subscription. You must ask yourself; how often do we use it? Are we likely to use it again? And does this tool get used enough to justify spending on it?
As we said, Microsoft are justifying these increases in price with the increased value they are offering their clients through better equipping them, but if you aren't using all those features have to offer to their full potential then the price increase will be an even harder pill to swallow. On the other hand, if they are being used to their full potential the increase may not be considered quite as harsh a blow.
Most Microsoft customers aren't using all the tools they have at their disposal, most have tools all over the place from a variety of different vendors – this is silly, Microsoft almost definitely have an alternative that could be used as part of an existing subscription.
You need to be familiar with the tools that you and your team are using to be sure that you are using them to their full potential and getting full value from them. There is no panic if you aren't, changes can be made to your plan with Microsoft, or you can change the way you use them to get full value from them. Involve Microsoft, they won't just leave you high and dry with tools you don't know how to use and get value from, they may offer a different better tool, or teach you how to use the existing one better.
Only a small percentage of businesses are utilising all of the value the platform has to offer – we aren't saying you need to use every feature available in their suite of tools, but we are saying that you need to use the tools that are right for you to their full potential.
At least Microsoft told everyone about the change to the pricing before they were just there, you have time to prepare so use it! Again, ask yourself questions such as, "am I getting the value Microsoft thinks I am" if the answer is no find a fix or communicate with a professional – be it from Microsoft or otherwise.
In the following article we will explore the tools your organisation may be using, and the alternatives in the Microsoft suite of tools that can take over from them as part of your package, this will guarantee you force as much value as possible from the tools they have to offer, and in turn, justify the rise in price.
Your Cloud service provider – Downtown
Our team of experts enables companies to enjoy the advanced opportunities offered by technology. Our Cloud solutions include offsite data backup, data sync services, Hosted Exchange, and Office 365. Those same experts will work alongside you to be sure we not only implement the best technological solutions to improve the way you work but also ensure everything is as straight-forward as possible. You and your team will be educated throughout the entire process and be confident that your systems are secure at all times. Contact us now to find out how we can help you.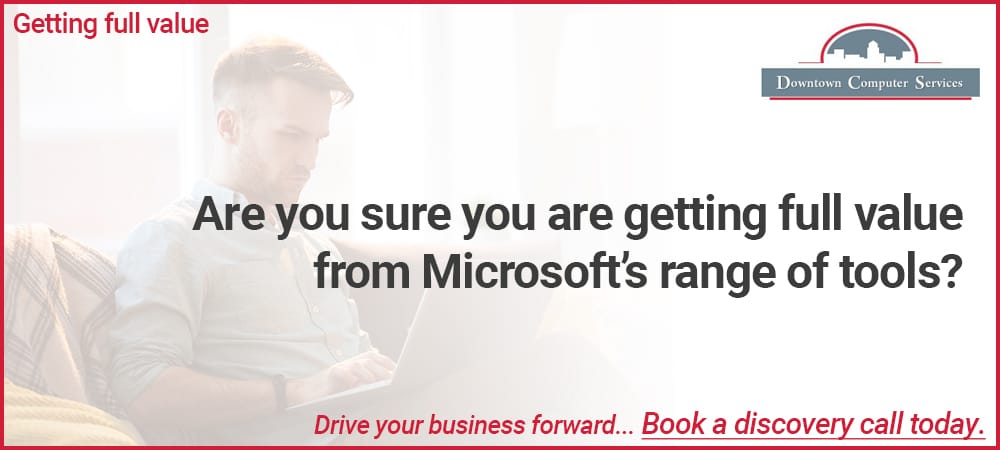 https://www.microsoft.com/en-us/Investor/earnings/FY-2021-Q4/press-release-webcast